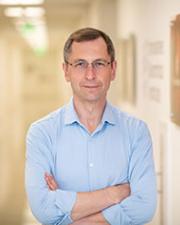 Fyodor Urnov
Department
Dept of Molecular & Cell Biology
Research Expertise and Interest
CRISPR-based genome and epigenome editing
Research Description
Development and advancement to the clinic of novel approaches to treat human disease using CRISPR-based genome and epigenome editing.
Fundamental mechanisms of CRISPR-based enzyme action in clinically relevant primary human cells.
Fine-resolution structure-function of the human epigenome.
In the News
May 13, 2020
A month after opening, a COVID-19 testing lab at the University of California, Berkeley, has branched out from evaluating symptomatic students to assessing a broader range of people potentially exposed to the new coronavirus, including residents of local nursing homes, the East Bay's homeless population, front-line firefighters and police officers and, now, utility workers around the state.
March 30, 2020
As doctors around the country scramble to diagnose cases of COVID-19, scientists at the University of California, Berkeley's Innovative Genomics Institute (IGI) are creating from scratch a diagnostic lab with the capability to process more than 1,000 patient samples per day.