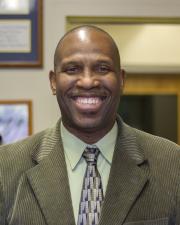 Frank C. Worrell
Title
Distinguished Professor
Department
Berkeley School of Education
Research Expertise and Interest
development
,
education
,
cognition
,
academic talent development
,
adolescence
,
African American
,
at-risk youth
,
English-speaking Caribbean
,
ethnic identity
,
gifted
,
psychosocial development
,
racial identity
,
school psychology
,
teacher effectiveness
,
Trinidad and Tobago
,
time perspective
Research Description
Frank C. Worrell is a Professor of School Psychology in the Berkeley School of Education at the University of California, Berkeley, and an affiliate Professor in Personality and Social Psychology in the Psychology Department.  His areas of expertise include at-risk youth, cultural identities, scale development, talent development, teacher effectiveness, time perspective, and the translation of psychological research findings into practice.  A Member-at-Large of the Board of Directors of the American Psychological Association (APA) from 2016 to 2018, Dr. Worrell is a Fellow of the Association for Psychological Science, the American Educational Research Association, and five divisions of APA (5, 15, 16, 45, and 52), and a former Editor of Review of Educational Research. Dr. Worrell is a recipient of the Distinguished Scholar Award from the National Association for Gifted Children, the Distinguished Contributions to Research Award from APA's Division 45 (Society for the Psychological Study of Culture, Ethnicity, and Race), and the Outstanding International Psychologist Award from Division 52 (International Psychology).  He is an elected member of the Society for the Study of School Psychology and the National Academy of Education and the 2022 President of the American Psychological Association. 
In the News
April 17, 2020
The intense social isolation, stress and uncertainty surrounding COVID-19 is shaping up to be its own mental health pandemic. Already, spikes in post-traumatic stress disorder are being documented among vulnerable populations, health workers and other front-line personnel.