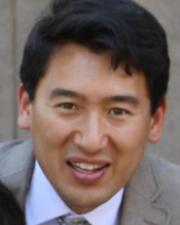 Eugene Chiang
Department
Dept of Astronomy
Dept of Earth and Planetary Science
Research Expertise and Interest
planetary science
,
theoretical astrophysics
,
dynamics
,
planet formation
,
circumstellar disks
Research Description
Eugene Chiang is a professor in the Department of Astronomy.  His research includes theoretical astrophysics, with emphasis on understanding the origin and evolution of planetary systems, both extra-solar and solar.
Topics of interest include protoplanetary disks, debris disks including the Kuiper belt, extrasolar planets, planet formation, gravitational dynamics, hydrodynamics.
In the News
June 12, 2019
As planets form in the swirling gas and dust around young stars, there seems to be a sweet spot where most of the large, Jupiter-like gas giants congregate, centered around the orbit where Jupiter sits today in our own solar system.
February 18, 2010
The first image of an extrasolar planet has won UC Berkeley astronomers and their team of planetary paparazzi the 2009 Newcomb Cleveland Prize of the American Association for the Advancement of Science for the most outstanding paper published in the journal Science.