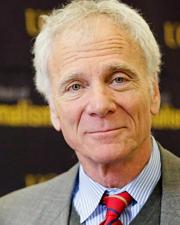 Research Expertise and Interest
media ethics
,
economics and politics of news
,
professional standards
,
media history
,
journalism
,
press
Research Description
Edward Wasserman, who writes and lectures widely on the ethics and operations of the news media, is the former dean of the Graduate School of Journalism at the University of California, Berkeley. Wasserman held the Knight Foundation chair in journalism ethics at Washington and Lee University from 2003 through 2012, and for 15 years wrote a biweekly column on the media for the McClatchy-Tribune syndicate. From 1972 to 2002, Wasserman worked as reporter, editor and CEO at various news organizations in Maryland, Wyoming, Florida and New York. Among his positions were city editor of the Casper (WY) Star-Tribune, executive business editor of The Miami (FL) Herald, editor in chief and CEO of the Miami-based Daily Business Review three-newspaper chain, and editorial director of 140-publication New York-based Media Central. Wasserman has spoken to professional and academic groups throughout the United States and in Argentina, Brazil, China, Britain, India, Canada, Sweden, Holland, Qatar and China, formerly served on the board of the Association for Practical and Professional Ethics (APPE), and is a member of the editorial board of the Journal of  Media Ethics. Wasserman received his B.A. cum laude in politics and economics from Yale, a licence in philosophy from the University of Paris I, Pantheon-Sorbonne, and a Ph.D. in media politics and economics from the London School of Economics.
In the News
May 6, 2020
To inform the public during these uncertain times, newsrooms across the country have made pandemic coverage a priority. But the ever-changing and sometimes unverified nature of COVID-19 data being released has left journalists and researchers with challenges in providing accurate information to the public.