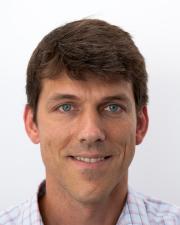 Duncan Callaway
Title
Associate Professor
Department
Dept of Energy & Resources Group
Division of Electrical Engineering/EECS
Research Expertise and Interest
energy systems analysis; grid decarbonization; modeling
,
control and optimization for electric power systems
Research Description
Duncan Callaway is an Associate Professor of Energy and Resources with an affiliate appointment in Electrical Engineering and Computer Science, and a Faculty Scientist at Lawrence Berkeley National Laboratory.  He received his PhD from Cornell University and subsequently worked in the energy industry, first at Davis Energy Group and later at PowerLight Corporation. He was a member of the research faculty of the Center for Sustainable Systems at the University of Michigan before joining UC Berkeley.  Dr. Callaway's teaching covers on energy systems with a focus on the electrical grid and energy efficiency.  His research group focuses on emerging energy technologies by quantifying their impacts on power system operations and developing control, optimization and data analysis tools to facilitate their integration into power systems.
In the News
October 15, 2018
Solar energy could be the key to providing low-cost, highly reliable energy to the roughly 600 million people in sub-Saharan Africa who currently live without power.
March 27, 2017
As Africa gears up for a tripling of electricity demand by 2030, a new Berkeley study maps out a viable strategy for developing wind and solar power while simultaneously reducing the continent's reliance on fossil fuels and lowering power plant construction costs.