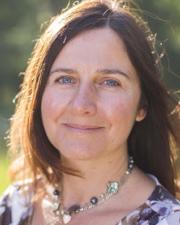 Diliana Angelova
Title
Associate Professor
Department
Dept of History
Dept of History of Art
Research Expertise and Interest
late antique art
,
gender
,
representations of Roman imperial power
,
the emperor Constantine
,
the Virgin Mary
,
Roman art and visual culture
,
ancient Mediterranean cities
,
textiles
,
ivories
,
mythology in Byzantine art
,
romantic love in antiquity and the middle ages
Research Description
Diliana Angelova is a historian of Ancient Mediterranean and Byzantine art and visual culture. All of her intellectual work seeks to advance three basic goals: to excavate the deep continuities between the pagan and the Christian eras; to offer a more meaningful integration of the female gender in large historical questions and narratives, partly through appeal to material culture; and thus to challenge the entrenched male- and literary-centered reconstruction of historical events and processes. In all of her writing she pursues this intellectual program through a combination of ambitious arguments and fresh, exacting reinterpretations of sources: texts, monuments, insignia, titles, buildings, coins, and artwork in a variety of media.