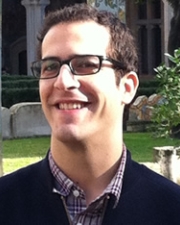 Diego Pirillo
Title
Assistant Professor
Department
Department of Italian Studies
Research Expertise and Interest
Renaissance Europe
,
History of Books and Reading
,
history of political thought
,
History of Historiography
Description
Diego Pirillo (PhD., Scuola Normale Superiore) is Assistant Professor of Italian Studies at the University of California, Berkeley, having previously taught at the Scuola Normale Superiore and at the University of Pisa. He has held fellowships and grants at various institutions (including the Houghton Library at Harvard University, the John Carter Brown Library at Brown University, the Newberry Library, the Renaissance Society of America, the Institute of International Studies at UC Berkeley, the Hellman Foundation, the Andrew W. Mellon Foundation). His research interests focus on early modern philosophy, heterodoxy and political thought, with special attention to the history of books and reading. Along with several articles, he is the author of Filosofia ed eresia nell'Inghilterra del tardo Cinquecento: Bruno, Sidney e i dissidenti religiosi italiani (Rome: Edizioni di Storia e Letteratura, 2010) and among the contributors to the Cambridge Companion to the Italian Renaissance (Cambridge: Cambridge University Press, 2014). He is currently working on a new monograph (tentatively entitled 'Heretical Networks: Espionage and Theology in Renaissance Europe'), which concentrates on the Italian Protestant reformers of the sixteenth and seventeenth centuries, examining their reading practices and their role as intelligencers, cultural brokers and news-gatherers between courts, embassies and print shops.