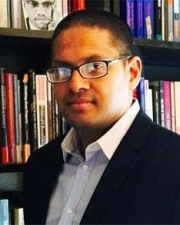 Desmond Jagmohan
Title
Assistant Professor
Department
Dept of Political Science
Research Expertise and Interest
history of political thought
,
American political thought
,
African American political thought
,
race and American political development
Research Description
Desmond Jagmohan is Assistant Professor of Political Science at the University of California, Berkeley. He specializes in the history of American and African American political thought, American intellectual history, and the history of political thought. His research concerns political and moral agency under conditions of extreme oppression. He is completing his first book, Dark Virtues: Booker T. Washington's Tragic Realism (under contract with Princeton University Press), which draws on several years of archival research to recover Washington as a virtue theorist of the oppressed. His second book will read Harriet Jacobs's slave narrative as a work of moral and political theory that grounds the wrong of slavery in property rights in another person.  His work has been published in Political Theory, Perspectives on Politics, Politics, Groups, and Identities, Contemporary Political Theory, and Boston Review. 
Professor Jagmohan is the winner of the APSA Best Dissertation Award from the Race, Ethnicity and Politics Section (2015) and was a National Fellow at the Hoover Institution, Stanford University (2018). Prior to arriving at Berkeley, he was Assistant Professor of Politics at Princeton University, where he delivered the 2018 Constitution Day Lecture and was awarded the Laurance S. Rockefeller University Preceptorship in the University Center for Human Values. He holds an M.A. and a Ph.D. from Cornell University. 
In the News
May 2, 2022
Some states are seeking to ban school discussion and books that feature LGBTQ issues. Texas is targeting doctors and parents who provide gender-affirming medical care to transgender teenagers. Florida has gone to war against Disney World, after Disney publicly opposed the state's so-called "Don't Say Gay" law.