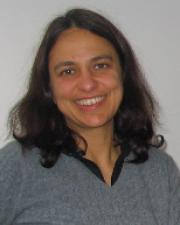 Deniz Göktürk
Title
Associate Professor
Research Expertise and Interest
German literature
,
German cinema
,
transnational cinemas
,
German-Turkish-European-American intersections in cinema
,
performance and spectatorship and reception
,
intertextuality and intermediality and translation
,
the politics and poetics of migration and globalization
,
urban imaginaries and mediations of place
,
theories of diversity and nationalism
,
comedy and community
,
modern rituals of regulating identity and authority and mobility
Research Description
Deniz Göktürk was born in Istanbul, studied in Konstanz, Norwich (UK), and Berlin, where she received her Ph.D. in 1995. She joined the German Department at Berkeley in fall 2001, after having taught at the University of Southampton (UK) for six years. Her publications include a book on literary and cinematic imaginations of America in early twentieth-century German culture: Künstler, Cowboys, Ingenieure: Kultur- und mediengeschichtliche Studien zu deutschen Amerika-Texten 1912-1920 (1998) as well as numerous articles on migration, culture, and cinema. She is co-editor of The German Cinema Book (published by the British Film Institute in 2002, co-edited with Tim Bergfelder and Erica Carter), and the special issue of New German Critique 92 (Spring/Summer 2004): Multicultural Germany: Art, Performance and Media (co-edited with Barbara Wolbert). She has been collaborating with colleagues and students on the "Multicultural Germany Project" and has organized workshops and conferences such as "Rethinking Diversity in Europe and the USA" and "Goodbye Germany? Migration, Culture, and the Nation State." Germany in Transit. Nation and Migration, 1955-2005, a co-edited sourcebook (with David Gramling, and Anton Kaes), was published by University of California Press in 2007. An expanded and updated German edition with the original documents was published in 2011 as Transit Deutschland: Debatten zu Nation und Migration (with David Gramling, Anton Kaes, and Andreas Langenohl). With Levent Soysal and İpek Türeli, she published Orienting Istanbul: Cultural Capital of Europe? (2010), and the Turkish edition İstanbul Nereye? Küresel Kent, Kültür, Avrupa (2011). As a translator from Turkish into German she co-edited an anthology of contemporary Turkish literature, Jedem Wort gehört ein Himmel (1991, with Zafer Senocak), and translated novels by Aras Ören and Bilge Karasu. Göktürk is co-founder of TRANSIT, the electronic journal launched by the Berkeley German Department in September 2005. She is currently working on book projects tentatively titled: "Transient Archives: Moving Images, Places, and Spectators," and, secondly, "Uniformed Identity: Comic Interventions in a Regulated World." She teaches courses on: "Transnational Cinemas," "World Cinema/Global Cities," "German Cinema: Spaces, Borders and Travel," "Kafka and Modernism," "Comedy and Community," "Nation, Migration, and Multiculturalism," "Hybrid Cultures: Jews and Turks in Germany," "Media, Spectatorship, and Place," and "Orienting Europe."