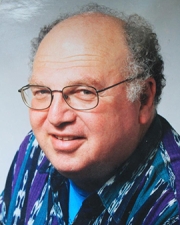 David Zilberman
Title
Professor of Agricultural & Resource Economics
Department
Dept of Agricultural & Resource Economics
Research Expertise and Interest
marketing
,
biotechnology
,
water
,
risk management
,
biofuels
,
natural resources
,
agricultural and environmental policy
,
the economics of innovation
Research Description
David Zilberman is a Professor and holds the Robinson Chair in the Department of Agricultural and Resource Economics at the University of California at Berkeley. Dr. Zilberman's areas of expertise include agricultural and environmental policy, marketing, risk management, the economics of innovation, natural resources, water, biotechnology, and biofuels. He is a Fellow of the Agricultural & Applied Economics Association (AAEA) and the Association of Environmental and Resource Economists. He received his B.A. in Economics and Statistics at Tel Aviv University, Israel, and his Ph.D. at the University of California at Berkeley.
In the News
January 17, 2019
David Zilberman, a professor of agricultural and resource economics at UC Berkeley, has been awarded the 2019 Wolf Prize in Agriculture in recognition of his work developing economic models for fundamental problems in agriculture, economics, and policy.
November 8, 2011
How to feed a fast-growing world where 900 million people are undernourished? Claire Kremen, a conservation biologist, sees traditional, sustainable practices as the solution. She and a group of Berkeley colleagues are establishing a new Berkeley Center for Diversified Farming Systems to find ways to scale up agroecological practices around the globe. A special report from the College of Natural Resources.
May 4, 2010
Recognizing the proven leadership of campus faculty and students in addressing climate change, poverty and public health, the John D. and Catherine T. MacArthur Foundation selected the University of California, Berkeley, as one of 10 universities worldwide to launch a new master's degree program in development practice.