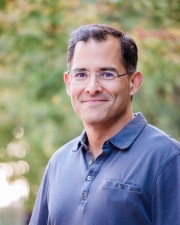 David V. Schaffer
Title
Professor; Director of QB3
Department
Dept of Bioengineering
Dept of Chemical & Biomolecular Engineering
Dept of Molecular & Cell Biology
Helen Wills Neuroscience Institute
Research Expertise and Interest
neuroscience
,
biomolecular engineering
,
bioengineering
,
stem cell biology
,
gene therapy
Research Description
David Schaffer's research program employs molecular and cellular engineering approaches to investigate biomedical problems. In particular, their lab focuses on the related areas of gene therapy, genome editing, and stem cell bioengineering, with applications to diseases of the nervous system and other tissues.  They are using high throughput protein engineering approaches to engineer safe, targeted viral gene delivery vehicles for gene therapy, and technologies developed in their lab are in numerous human clinical trials.  Furthermore, they are developing novel technologies to investigate and better control the behavior of stem cells, both to advance basic biological knowledge of the development and function of the nervous system and to engineer stem cell based therapies to treat neurodegenerative disease.