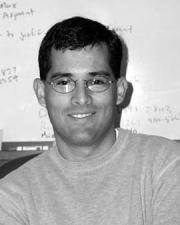 David V. Schaffer
Title
Professor of Chemical and Biomolecular Engineering
Department
Department of Bioengineering
Department of Chemical Engineering
Helen Wills Neuroscience Institute
Research Expertise and Interest
neuroscience
,
biomolecular engineering
,
bioengineering
,
stem cell biology
,
gene therapy
Description
Our research program employs molecular and cellular engineering approaches to investigate biomedical problems. In particular, our lab focuses on the related areas of stem cell bioengineering and therapeutic gene delivery, with applications to diseases of the nervous system.
In the News
May 13, 2015
UC Berkeley researchers have discovered that a small-molecule drug simultaneously perks up old stem cells in the brains and muscles of mice, a finding that could lead to drug interventions for humans that would make aging tissues throughout the body act young again.
April 24, 2015
Rather than trying to quiet the body's defenses against viruses, David Schaffer has favored a kind of intelligent design approach to modify the virus. Known as directed evolution, the strategy uses genetic engineering to find variations in the virus that will allow it to effectively deliver drugs to target cells.
June 12, 2013
Researchers at UC Berkeley have developed an easier and more effective method for inserting genes into eye cells that could greatly expand gene therapy to help restore sight to patients with blinding diseases ranging from inherited defects like retinitis pigmentosa to degenerative illnesses of old age, such as macular degeneration.