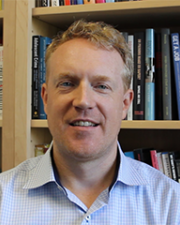 David Harding
Title
Professor; Faculty Director of the Social Sciences D-lab
Research Expertise and Interest
poverty
,
inequality
,
causal inference
,
mixed methods
,
incarceration
,
prisoner reentry
,
education
,
neighborhoods
,
urban
,
community
,
adolescence
Research Description
David Harding studies poverty and inequality, urban neighborhoods, education, incarceration, and prisoner reentry. He uses both qualitative and quantitative methods. His current projects include the social and economic reintegration of former prisoners, neighborhoods and prisoner reentry, the effects of incarceration on crime, employment, and health, and causal inference for contextual effects research. 
For prisoner reentry, incarceration, and related research, see www.prisonerreentryresearch.org.
Most recently, Harding is the author of On the Outside: Prisoner Reentry and Reintegration (Chicago, 2019). 
In the News
May 16, 2019
Locking away people who have committed assault, robbery and similar felonies may keep them off the streets for a period of time, but it does not affect whether they will commit violent crimes after their release, according to new research from UC Berkeley.
October 3, 2017
Failing a drug test, associating with felons and other technical parole violations are among the key drivers of prison's "revolving door," according to new UC Berkeley research.