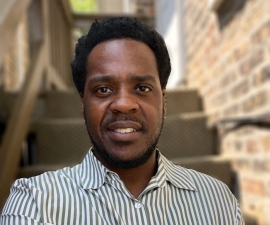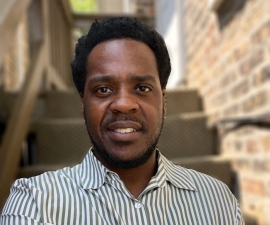 Research Expertise and Interest
mixed media, printmaking, Abstraction, black studies, Black Contemporary Art
Research Description
Darian Longmire is a mixed media artist from Chicago IL. He completed his MFA candidacy in upstate New York at SUNY-Albany in 2018. After moving from the Midwest to the Northeast, Darian began to combine his print based work, which explored physics, philosophy and outer space with wider ideas about time and space. Eventually discovering the close connection to sci-fi and techno-culture, his research and ideas from the past have naturally developed into a larger artistic framework.
Rather than using cultural identity as a driving force for his practice, he instead chooses to articulate the dichotomy of blackness through invisible matter, black holes and time warps. His visual language has formed through years of studying digital processes, drawing, printmaking and design. Darian is not a revisionist but rather a remixer, re-appropriating satellite images from NASA, where he utilizes his skill toolbox to create a world of abstraction. His recent explorations in the studio have been impacted by what he describes as living through a time distortion.
Darian has successfully exhibited works in a number of shows including "Yelling at the sky", curated by La Keisha Leek at The Gaylord & Donnelley Foundation in Chicago IL. (2016), "Time Camp", curated by Black Quantum Futurism at Icebox Projects in Philadelphia PA. (2017), as well as "What is leaping in your chest?" curated by Alexandra Foradas (Mass MOCA) at Collar Works gallery in Troy, NY. (2017). He was awarded Best in Show for his thesis exhibition, "Blackness was in the Beginning and Blackness will be in the end" by the University Art Museum at SUNY-Albany in 2018.