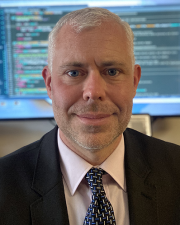 Chris Jay Hoofnagle
Department
Berkeley Law
School of Information
Research Expertise and Interest
consumer protection
,
internet law
,
privacy
,
computer crime
,
criminal procedure
,
law and technology
,
public choice theory
,
federal trade commission
,
federal communications commission
,
class action litigation
,
cyber security
,
cybersecurity
,
quantum information
Research Description
Chris Jay Hoofnagle is a Professor of Law in Residence at Berkeley Law, and Faculty Director of the Berkeley Center for Law & Technology.  He helps students from different disciplinary perspectives understand the effects of law on technology. He teaches cybersecurity, privacy, consumer protection, forensics, and seminars on new technologies. He holds a dual appointment with the School of Information.
Hoofnagle is author of Federal Trade Commission Privacy Law and Policy (Cambridge University Press 2016). His new book with Simson Garfinkel, Law and Policy for the Quantum Age, examines the strategic implications and policy issues raised by quantum technologies (CUP 2021). Hoofnagle is an elected member of the American Law Institute and maintains a private law practice focusing on venture capital and emerging technology.
Hoofnagle has written extensively in the fields of information privacy, the law of unfair and deceptive practices, consumer law, and identity theft. His recent work includes:
The Tethered Economy, 87(4) Geo. Wash. L. Rev. 783 (2019)(with Aniket Kesari and Aaron Perzanowski)
The European Union general data protection regulation: what it is and what it means, 28(1) Information & Communications Technology Law 65 (2019)(with Bart van der Sloot and Frederik Zuiderveen Borgesius)
Sponsored Blog Content: What Do the Regulations Say: And What Do Bloggers Say, 9 J. Intell. Prop. Info. Tech. & Elec. Com. L. 146 (2018)(with Sophie C Boerman, Natali Helberger, and Guda van Noort)
Deterring Cybercrime: Focus on Intermediaries, 32(3) Berkeley Technology Law Journal 1093 (2017)(with Aniket Kesari and Damon McCoy)
What We Buy When We 'Buy Now,' University of Pennsylvania Law Review 165 (2016)(with Aaron Perzanowski)