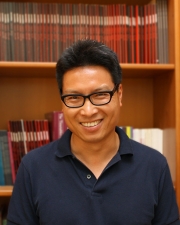 Research Expertise and Interest
German literature and thought from the 17th to 20th century; Early Modern Studies; Law and Literature; History and Theory of International Law; Modern Chinese literature and thought
Research Description
Professor Tang studied comparative literature, German literature, and philosophy at Peking University, Ludwig-Maximilians-Universität Munich (MA 1993), and Columbia University (PhD 2000). He taught at the University of Chicago before joining the Berkeley faculty in 2007. He is a recipient of numerous awards, including Alexander von Humboldt Research Fellowship, UC President's Faculty Research Fellowship, and two Mellon Foundation Research Grants. He currently serves on the editorial board of the PMLA. He has held visiting professorships at Free University and Humboldt University Berlin and currently holds a visiting professorship at Shanghai Normal University.
In his early research, Tang was interested in the roles played by German literature and thought in the self-understanding and self-positioning of Europe in the world. His dissertation Writing World History: The Emergence of Modern Global Consciousness in the Late Eighteenth Century (Columbia University 2000) and monograph The Geographic Imagination of Modernity: Geography, Literature and Philosophy in German Romanticism (Stanford UP 2008) study the ways in which Europe created a temporal-spatial framework for itself in the classical-romantic period of German literature and philosophy.
His recent book Imagining World Order: Literature and International Law in Early Modern Europe, 1500-1800 (Cornell UP 2018) expands the scale of analysis from German to European, examining the imaginative work performed by literature in establishing an international world order in early modern Europe. In his current book project "The Aesthetic Constitution of International Law," the scale of analysis shifts from the European to the planetary, concerned with the making of the planetary nomos in which we live today.
Based in German studies, Prof. Tang has been exploring ways of moving beyond conventional parameters for literary studies such as historical period and national language. He is active in the vibrant field of legal humanities, focusing especially on the theory and history of international law.