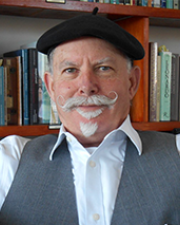 Charles Chip Sullivan
Department
Dept of Landscape Architecture & Environmental Planning
Research Expertise and Interest
garden history
,
symbolism
,
creative and imagination development
,
perceptual engagements
,
inclusive methods and mediums to express landscapes
Research Description
Chip Sullivan is a landscape architect and artist who maintains a lifelong commitment to the exploration of the garden as a sustainable environment. He devotes his career to promoting landscape architecture as an art form. Chip has expounded on the meaning and perception of landscape through innovative forms of pedagogy, representational techniques, and writing. The philosophy and application of sustainable design, through art and ecology, has been a constant topic lectured upon throughout Asia, Europe, and North America. His graphic work, illustrating the balance between humans and nature, has been exhibited in galleries throughout the world. Chip's site specific environmental installations incorporate optical devices such as the Claude Mirror, Spectra Scope and Camera Obscura to heighten the observer's perception and insight of landscape.
Chip is the book author of the 2016 University of Virginia Press publication of Cartooning the Landscape which won the John Brinckerhoff Jackson Prize, Foundation for Landscape Studies. Co-authored with Joe Slusky, The Impulse to Draw; Empowering Imagination for the Electronic Age, is a manifesto on creativity, imagination and drawing (Norfolk Press, 2014). His book Drawing the Landscape, is a popular treatise on drawing and the creative process which is now in its 4th edition (2013). Inspired by the graphic novel concept Illustrated History of Landscape Design (co-authored with Elizabeth Boults, 2010) uses storyboards, visual narratives and illustrative timelines to illuminate the history of landscape architecture. Chip's illustrated and awarded 2002 book Garden and Climate is a detailed analysis of the history of energy conserving landscape design. His recent 2014 show of graphics; Slusky and Sullivan: Sculptures, Drawings and Related Antics, was at the Richmond Art Center. From 2006 thru 2011 Chip produced a series of comics for Landscape Architecture Magazine titled "Creative Learning." The series focused on the creative process and the history of landscape representation and was exhibited at Clemson University. In addition to numerous awards and fellowships Chip is also the subject of a documentary titled "The Professor." It is part of a series of films on creativity by Emmy award winning director Allan Holzman.