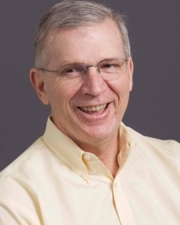 Brian Staskawicz
Title
Professor; Scientific Director of Agricultural Genomics at the Innovative Genomics Reseach Institute
Department
Dept of Plant and Microbial Biology
Research Expertise and Interest
biotechnology
,
plant and microbial biology
In the News
April 18, 2019
The Royal Society of London, the oldest scientific academy in continuous existence, announced their newest fellows this week, among them four UC Berkeley faculty. The newest Berkeley fellows are U.K.-born developmental biologist Richard Harland and Australian-born chemist Martin Head-Gordon. They are joined by two new foreign members, climate scientist Inez Fung and plant biologist Brian Staskawicz. The four are among 51 new fellows, 10 new foreign members and one new honorary member.
February 25, 2019
Inserting or tweaking genes in plants is more art than science, but with a new technique developed by University of California, Berkeley, scientists could make genetically engineering any type of plant—in particular, gene editing with CRISPR-Cas9—simple and quick.
January 24, 2017
An initiative launched two years ago by UC Berkeley and UC San Francisco to use CRISPR-Cas9 gene editing to develop new disease therapies is expanding into research on the planet's major crops and poorly understood microbiomes.