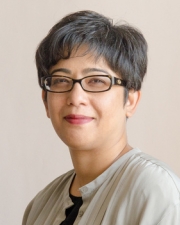 Atreyee Gupta
Title
Assistant Professor
Research Expertise and Interest
global modern art
,
modern and contemporary South and Southeast Asian art
Research Description
Atreyee Gupta's area of specialization is global modernisms and contemporary art, with a special emphasis on South and Southeast Asia and its diasporas. Her research and teaching interests cluster around visual and intellectual histories of twentieth-century art; the intersections among the Cold War, the Non-Aligned Movement, and art after 1945; new media and experimental cinema; and the question of the global more broadly.
Gupta is presently completing Non-Aligned: Decolonization, Modernism, and the Third World Project, India ca. 1930–1960, a book on the artistic and intellectual resonances of the Non-Aligned Movement during the Cold War era and the interwar anti-colonial Afro-Asian networks that preceded it. Her coedited books include Postwar – A Global Art History, 1945–1965 (with Okwui Enwezor) and Global Modernism/s: Infrastructures of Contiguities, ca. 1905–1965 (with Hannah Baader and Patrick Flores). The former emerges from the international conference, Postwar - Art between the Pacific and the Atlantic, 1945–1965, co-convened at Haus der Kunst, Munich with Enwezor and Ulrich Wilmes. The latter emerges from the international conference Global Modernisms: Contiguities, Infrastructures, and Aesthetic Practices, which she co-convened at Haus der Kulturen der Welt (House of World Culture) in Berlin with Baader and Flores. Gupta's essays have appeared in edited volumes, exhibition catalogs, and journals such as Yishu, Art Journal, and Third Text.
Her research has been supported by the Social Science Research Council, New York; the Getty Research Institute, Los Angeles; the Goethe Institut and Haus der Kunst, Munich; and, more recently, the Art Histories and Aesthetic Practices at Forum Transregionale Studien, Berlin, an initiative of the Kunsthistorisches Institut Florenz, Max-Planck-Institut. Before coming to Berkeley in 2017, Atreyee Gupta was the Jane Emison Assistant Curator of South and Southeast Asian Art at the Minneapolis Institute of Art.