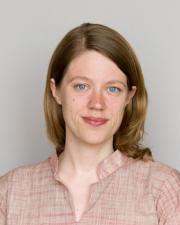 Anneka Lenssen
Title
Assistant Professor
Research Expertise and Interest
Research Description
Anneka Lenssen specializes in modern painting and contemporary visual practices, with a focus on the cultural politics of the Middle East. She teaches courses engaging with modern art and global mass culture, abstraction and aniconism, theories of global interconnectedness and tension, translational practices, and historiography as well as special topic courses on Islamic art and visual culture.
Lenssen's research examines problems of artistic representation in relation to the globalizing imaginaries of empire, nationalism, communism, decolonization, non-alignment, and Third World humanism. Her current book project, Beautiful Agitation: Modern Painting and Politics in Syria, 1900—1965, forthcoming from the University of California Press, is a study of avant-garde painting and the making of Syria as a contested territory. It traces emerging ideas about artistic form and social activation within new regimes of political representation, from French Mandate rule after the first war to the mass mobilizations of youth-oriented ideological parties to Cold War cultural diplomacy.
Lenssen was previously on the board for the Association of Modern and Contemporary Art from the Arab World, Iran, and Turkey (AMCA). She is currently on the Editorial Board of ARTMargins. She is co-editor, with colleagues Nada Shabout and Sarah Rogers, of a volume of art writing from the Arab world in translation: Modern Art in the Arab World: Primary Documents, published by the Museum of Modern Art, New York, 2018. 
Before coming to Berkeley, Lenssen taught at The American University in Cairo, where she directed the Visual Cultures Program (2013-2014). She earned her PhD from the Massachusetts Institute of Technology in the History, Theory, and Criticism of Architecture and Art program and the Aga Khan Program for Islamic Architecture.