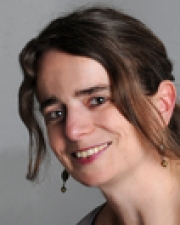 Anne-lise Francois
Title
Professor of Comparative Literature & English
Department
Dept of English
Dept of French
Research Expertise and Interest
popular culture
,
English
,
comparative literature
,
the modern period
,
comparative romanticisms; lyric poetry; the psychological novel
,
novel of manners; gender
,
critical theory; literature
,
philosophy; fashion
Research Description
Anne-Lise François joined the Departments of English and Comparative Literature Departments at the University of California at Berkeley as an assistant professor in 1999, after receiving her doctorate in Comparative Literature from Princeton University. Her teaching and research focus on (mostly) 19th-century British, American and European (French and German) fiction, poetry and thought, with some excursions into the 17th, 18th, and early 20th centuries. Her current project is a study of reticent assertion and affirmative reticence in the fiction of Mme de Lafayette, Jane Austen and Henry James, and the poetry of William Wordsworth, Emily Dickinson and Thomas Hardy. It focuses on a series of texts in which all but nothing happens. Rather than read these works' near misses in simply negative terms, the book puts the open secret's gift of all but nothing in relation with the theological and aesthetic concepts of grace.