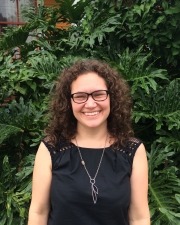 Anna Livia Brand
Title
Assistant Professor
Department
Dept of Landscape Architecture & Environmental Planning
Research Expertise and Interest
urban planning
,
urban design
,
community development
,
environmental planning
,
racial geographies
,
race and urban development
,
citizen participation
Research Description
Anna Livia Brand's research focuses on the historical development and contemporary planning and landscape design challenges in Black mecca neighborhoods in the American North and South. She is investigating how (re)development paradigms in the 21st century reflect ongoing racialization and her work interrogates the gendered, racialized and resistant constructions of the built environment over time. Her comparative work on Black mecca neighborhoods traces historical and contemporary productions of racial landscapes and resistance to these constructions in and across different cities, including New Orleans, Houston, Chicago and Washington D.C.. Her work on post-Katrina New Orleans examines how racial geographies have been reconstructed after the storm through disciplines like urban planning. Anna received her PhD in Urban Planning from MIT and is currently an Assistant Professor in the Department of Landscape Architecture and Environmental Planning at the University of California, Berkeley.