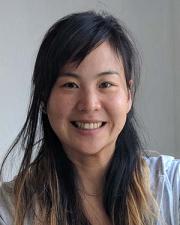 Angjoo Kanazawa
Title
Assistant Professor
Department
Division of Computer Science/EECS
Research Expertise and Interest
CS-vision
,
graphics
,
machine learning
Research Description
Angjoo Kanazawa is an Assistant Professor in Computer Science.  She was previously a research scientist at Google NYC and a BAIR postdoc.  She completed her PhD in CS at the University of Maryland, College Park.
In the News
June 16, 2022
Imagine taking a few photos with your mobile phone and quickly converting them into a 3D scene that you could navigate. This may soon be possible with a new technology developed by UC Berkeley researchers that can reconstruct photorealistic 3D worlds in just minutes — without the aid of artificial intelligence.
June 14, 2022
From artificial ligaments and a novel approach to cancer treatment to "soft" batteries and a way to give voice to silent speech, new innovations from UC Berkeley faculty are getting a big vote of support from the Bakar Fellows program. Seven faculty members have been selected to receive the 2022 Bakar Fellows Spark Award, which is designed to accelerate faculty-led research and produce tangible, positive societal impact through commercialization.