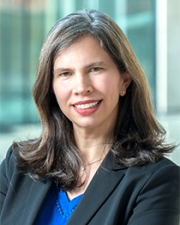 Research Expertise and Interest
forensic science
,
criminal procedure
,
criminal law
,
DNA
,
evidence law
,
criminal justice
Research Description
Andrea Roth joined the Berkeley Law faculty in 2011. Before coming to Berkeley, she was a Thomas Grey Fellow at Stanford Law School. Before Stanford, she worked for nine years as a trial and appellate attorney at the Public Defender Service for the District of Columbia (PDS), and clerked for Justice Dana Fabe of the Alaska Supreme Court. At PDS she was a founding member of a Forensic Practice Group that studied and litigated forensic DNA typing, and has lectured nationally on forensic science-related issues. She is also an appointed member of the Legal Resource Committee of the National Institute of Standards and Technology's Forensic Science Standards Board. Her research focuses on the use of forensic science in criminal trials, the continuing viability of the lay jury, and the ways in which pedigreed concepts of criminal procedure and evidentiary law must be retheorized in an era of science-based prosecutions. Her articles include "'Spit and Acquit': Prosecutors as Surveillance Entrepreneurs, 107 Cal. L. Rev. 101 (2019); "Machine Testimony," 126 Yale L.J. 1972 (2017); "Trial by Machine," 104 Georgetown L.J. 1245 (2016); "The Uneasy Case for Marijuana as Chemical Impairment Under a Science-Based Jurisprudence of Dangerousness," 103 Cal. L. Rev. 841 (2015); "Defying DNA: Rethinking the Role of the Jury in an Age of Scientific Proof of Innocence," 93 Boston U. L. Rev. 1643 (2013); "Maryland v. King and the Wonderful, Horrible DNA Revolution in Law Enforcement," 11 Ohio St. L. J. 295 (2013); and "Safety in Numbers?: Deciding When DNA Alone Is Enough To Convict," 85 N.Y.U. L. Rev. 1130 (2010). She also co-authors  a leading evidence casebook with Stanford Law Professor David Sklansky, and is a contributing author to the Scientific Evidence treatise (with Giannelli, Imwinkelried, Moriarty, and Beety).
Roth was one of 4 recipients of the campus-wide 2019 Distinguished Teaching Award. In 2017, Roth was the recipient of the annual UC Berkeley campus-wide Prytanean Faculty Award given to one pretenure woman faculty member. In 2016, she received the law school's annual Rutter Award for Teaching Excellence, and in 2015, was awarded one of two inaugural teaching awards from Women of Berkeley Law. In 2018, she was selected by the graduating class as the faculty commencement speaker, and received a "Distinguished Teaching Award" from the Berkeley Criminal Law Journal.
Roth graduated in 1998 from Yale Law School, and holds undergraduate degrees in mathematics and political science from the University of New Mexico.
Education
B.S./B.A., University of New Mexico (1995) J.D., Yale Law School (1998)