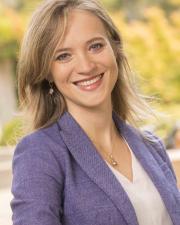 Anastassia Fedyk
Title
Assistant Professor
Research Expertise and Interest
behavioral economics
,
empirical asset pricing
,
experimental economics
,
labor and finance
Research Description
Anastassia Fedyk is an Assistant Professor of Finance at the Haas School of Business at UC Berkeley. Her research focuses on behavioral biases in individual and group decision-making, with a particular focus on information and belief formation. She studies how information from a variety of sources, including financial news and individual employment records, influences asset prices. Anastassia holds a Ph.D. in Business Economics from Harvard University and a B.A. in Mathematics with honors from Princeton University. Prior to pursuing her academic career, Anastassia Fedyk was a researcher and portfolio manager at Goldman Sachs Asset Management.
In the News
March 11, 2022
The cameras are focused on the savage Russian bombardment of Ukraine and the resistance of Ukrainians and Russian protesters, but largely off-camera, the war is unfolding as a rapidly escalating economic conflict that has sent shock waves around the world.