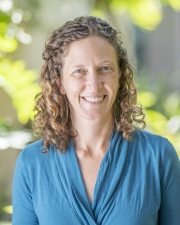 Amy Pickering
Title
Assistant Professor
Department
Dept of Civil and Environmental Engineering
Research Expertise and Interest
disease transmission
,
water
,
public health surveillance
,
zoonotic infectious disease
,
community-acquired antimicrobial resistance
Research Description
Amy J. Pickering, Ph.D. is the Blum Center Distinguished Chair in Global Poverty and Practice jointly appointed in the Department of Civil and Environmental Engineering and the Blum Center for Developing Economies. Dr. Pickering's research combines tools from multiple disciplines (engineering, economics, microbiology, epidemiology) to identify low-cost and scalable interventions to interrupt disease transmission in low-income countries. Dr. Pickering has 15 years of experience collaborating with partners in Benin, Kenya, Tanzania, Mali, Mexico, Sri Lanka, Bangladesh, and India on research to improve human health and well-being. She is a CZ Biohub Investigator and NSF CAREER awardee. 
Dr. Pickering received her B.S. in Biological and Environmental Engineering from Cornell University, M.S. in Environmental Engineering from the University of California, Berkeley, and Ph.D. from the Interdisciplinary Program for Environment and Resources at Stanford University. Prior to Berkeley, Dr. Pickering held positions as the Tiampo Family Assistant Professor at Tufts University, senior fellow and research engineer at Stanford University, an environmental engineer at the U.S. Environmental Protection Agency, and Fulbright Fellow in Malaysia.
In the News
January 11, 2022
The Chan Zuckerberg Biohub announced today (Jan. 11) the second cohort of scientists to be named CZ Biohub Investigators, 21 of whom are UC Berkeley faculty members.