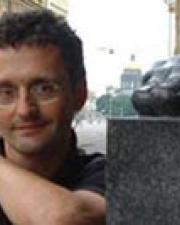 Alexei Yurchak
Title
Professor of Anthropology
Research Expertise and Interest
language
,
Discourse
,
power
,
social theory
,
late socialism
,
theories of ideology
,
subjectivity
,
popular culture
,
ideology
,
Soviet and post-Soviet culture and society
,
post-socialism
,
telecommunications
,
linguistics
,
speech synthesis
Research Description
Before studying anthropology I specialized in telecommunications and linguistics (MS from St. Petersburg Academy of Aviation and Space Technology, Russia) and worked in research on speech synthesis and recognition (Department of Linguistics at St. Petersburg University and Popov Institute of Communications and Acoustics). My two areas of primary interest are linguistic anthropology and post-Soviet Russia and Eastern Europe. In the first area I am particularly interested in the analysis of how ideologies (political, cultural, national, market, etc.) are projected on and work through language, and what methods of discourse analysis social scientists can use to unpack their discursive power. In the second area of interest I am concerned with the contemporary transformations in the "post-communist" world, in particular in Russia. Specifically, I am interested in the cultural shifts brought forth by the collapse of the Soviet ideology, state institutions, and centralized economic principles and the advent of the ideology, institutions, and economic principles of a type of market, and how the interplay between these different forces contributed to the formation of socialist and post-socialist identities and subject positions. I am also interested in how forces of globalization (in business, mass media, communication technologies, transportation) become involved in the social processes of domination and resistance, division and unification, continuity and change, and the local responses to them. More generally my theoretical interests include the analysis of human agency and its interplay with language and discourses of power. My research methods are based on detailed ethnographic fieldwork and include long semi-structured interviews, participant observation, and critical analysis of linguistic practices.
Currently I am completing a book about the gradual transformation of the Soviet society during the period of late socialism (1960s-1980s), and how the conditions created by this transformation brought about the changes of perestroika and the ultimate spectacular collapse of the Soviet system in 1991. I am also completing work on several papers on comprehensive methods of critical discourse analysis for anthropology, on the advent of the post-Soviet "entrepreneurial" identity, and on the shifts in the Russian language as a form of the post-Soviet development of private business.