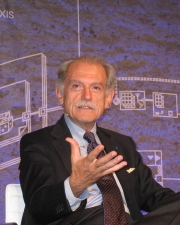 Alberto Sangiovanni-Vincentelli
Title
Professor; The Edgar L. and Harold H. Buttner Chair
Department
Division of Electrical Engineering/EECS
Research Expertise and Interest
Cyber-Physical Systems
,
System design
,
Electronic Design Systems
,
embedded system design
,
biological systems
,
wireless sensor network design
,
control
,
integrated circuits
,
robotics
,
theory
Research Description
Alberto Sangiovanni-Vincentelli's research has always been about understanding and improving the design of complex systems from very large scale integrated circuits, to systems on chip, to automotive systems, from energy efficient buildings to avionics and defense systems. Formulating the problem in mathematical terms and finding algorithms to solve it is the focus of his work. Modeling, analysis, formal verification, synthesis and especially methodology are at the center of the contributions that his research group has published and of the tools that they developed. They also place attention to industry collaboration to be relevant and solve "real" problems that often are more challenging than problems  "invented" to demonstrate the technology developed. Presently they focus on Cyber Physical Systems, a tight coupling between physical systems such as mechanical or electrical systems and the "intelligence" provided by software running on computing devices.
In the News
June 25, 2020
Six UC Berkeley-led projects have won funding from the recently launched C3.ai Digital Transformation Institute to harness the power of artificial intelligence (AI) to combat the spread of COVID-19 and other emerging diseases.
June 24, 2020
The newly formed research consortium C3.ai Digital Transformation Institute has made awards to 26 research projects led by top scientists and engineers to mitigate the COVID-19 pandemic. Four of the recipients have faculty appointments at UC Berkeley's College of Engineering.