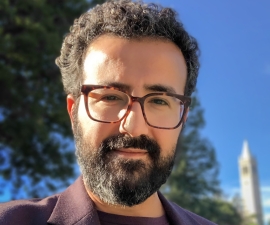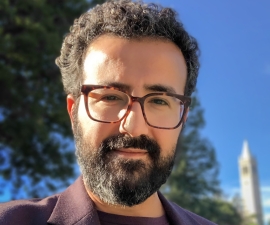 Research Expertise and Interest
Arabic literature, translation studies, Arabic philology, postcolonial studies, linguistics, Middle Eastern Cinema
Research Description
Ahmad Diab is Assistant Professor of Modern Arabic Literature and Middle Eastern Cinema in the Department of Middle Eastern Languages and Cultures and Affiliate Faculty in the Arts Research Center at the University of California, Berkeley. He received his B.A. from Damascus University, majoring in English Literature. He completed an M.A. in English Literature at City University of New York while on a Fulbright scholarship and he was awarded a Ph.D. from the Department of Middle Eastern Studies, New York University. 
Professor Diab specializes in modern Arabic literature and Middle Eastern cinema, with a special focus on the politics of culture and representation in the eastern Mediterranean. His manuscript Intimate Others: Arabs through the Palestinian Gaze (currently under review by Stanford University Press) is the first study of its kind to explore how Palestinians represent non-Palestinian Arabs in literature and visual culture. It goes against the grain by investigating the ways in which identity between the two categories of Palestinian and Arab has been both articulated and contested across different genres. This study inverts (and ultimately displaces) the habitual academic gaze through posing the following questions: how do Palestinians imagine other Arabs? What sort of desires inform these imaginings? Starting with the period of British Mandate Palestine, the book traces the metamorphosis of an "intra-Arab bond," a bond that acknowledges the distance that at once binds and separates Arab and Palestinian.
Although he has worked extensively on modern Palestinian literature and film, Professor Diab's current focus is the contemporary cultural production of Arab creatives in Western Europe since 2011. The recent Arabic literary output of exiles and refugees in Europe is the subject of his second book-length research project tentatively titled "Poets in Sonnenallee: The Anxieties of Beginning Again." 
Professor Diab's other research interests include the theory and practice of translation mainly between English and Arabic. He has published English translations of the poetry of Mahmoud Darwish and Muhammad Al-Maghout, and the fiction of several contemporary Syrian authors. Most recently, he has finished his Arabic translation of Edward Said and Jean Mohr's book-length mediation on the Palestinian condition After the Last Sky (Columbia University Press). The translation is under review by Dar Al-Adab, Beirut. Diab's other published work has appeared in Critical Times, the Arab Studies Journal, the Journal of Palestine Studies, the Washington Square Review, Wasafiri, Jadaliyya, and Al-Shabaka. 
Alongside his academic writing, Professor Diab publishes creative fiction and poetry in both Arabic and English. Most recently, he was a recipient of The Poetry and the Senses Fellowship at UC Berkeley's Arts Research Center in 2021-2022.
Professor Diab is on leave during Fall 2023.