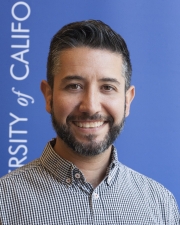 Adrian Aguilera
Title
Associate Professor
Research Expertise and Interest
mobile technology (mHealth) and mental health
,
digital health
,
Latino & minority mental health
,
health disparities
,
cognitive-behavioral therapy for depression
,
machine learning
,
user centered design
,
implementation science
Research Description
Dr. Aguilera's research emphasizes digital health equity, utilizing digital technologies to improve health and mental health in low-income and underserved populations, with a specialty working with Latinx populations.  He has developed and continues testing an automated text messaging based companion to cognitive behavioral treatment for depression with the goal increasing engagement and improving outcomes. He is also doing work to develop a personalized machine learning based, mobile phone intervention to increase physical activity in co-morbid depression and diabetes.
In the News
November 4, 2020
UC Berkeley scholars awoke Wednesday, Nov. 4 to signs of a deeply divided U.S. electorate, and no blue wave on the horizon. Despite a surge in early voting, ballots were still being counted in several battleground states. As of noon that day, the race between President Donald Trump and his Democratic challenger Joe Biden remained too close to call. 
May 18, 2020
Mirroring the dramatic uptick in digital interaction, University of California-affiliated health centers have seen a 1000% increase in telehealth since the beginning of the pandemic, UC Berkeley health experts said.
April 9, 2012
Text messaging often gets a bad rap for contributing to illiteracy and high-risk behavior such as reckless driving. But a Berkeley social-welfare professor has found an upside to texting, especially for people who feel stressed out, isolated and alone.