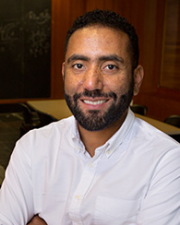 Aaron Streets
Title
Associate Professor
Research Expertise and Interest
biological systems
,
microfluidics
,
microscopy
,
genomics
Research Description
The Streets lab is interested in applying lessons from mathematics, physics, and engineering, to invent tools that help us dissect and quantify complex biological systems. Our goal is to uncover laws that govern the interactions of molecules inside the cell and the interactions between cells in a tissue or organism, by making precision measurements on single cells. In pursuit of this goal, we exploit three core technologies; microfluidics, microscopy, and genomics.
In the News
March 31, 2022
A three-year-old consortium has finally filled in remaining DNA, providing the first complete, gapless genome sequence for scientists and physicians to refer to. The newly completed genome, dubbed T2T-CHM13, represents a major upgrade from the current reference genome, called GRCh38, which is used by doctors when searching for mutations linked to disease, as well as by scientists looking at the evolution of human genetic variation.
January 11, 2022
The Chan Zuckerberg Biohub announced today (Jan. 11) the second cohort of scientists to be named CZ Biohub Investigators, 21 of whom are UC Berkeley faculty members.
June 18, 2019
Two young Berkeley faculty members, Aaron Streets of bioengineering and Michel DuPage of molecular and cell biology, are among 29 new Pew Scholars in the health sciences announced by the Pew Charitable Trusts.