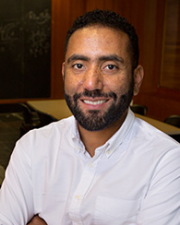 Aaron Streets
Title
Assistant Professor
Research Expertise and Interest
biological systems
,
microfluidics
,
microscopy
,
genomics
Research Description
The Streets lab is interested in applying lessons from mathematics, physics, and engineering, to invent tools that help us dissect and quantify complex biological systems. Our goal is to uncover laws that govern the interactions of molecules inside the cell and the interactions between cells in a tissue or organism, by making precision measurements on single cells. In pursuit of this goal, we exploit three core technologies; microfluidics, microscopy, and genomics.
In the News
June 18, 2019
Two young Berkeley faculty members, Aaron Streets of bioengineering and Michel DuPage of molecular and cell biology, are among 29 new Pew Scholars in the health sciences announced by the Pew Charitable Trusts.