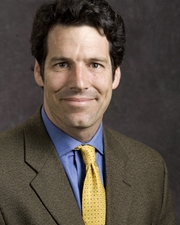 Aaron S. Edlin
Title
Professor of Economics and Professor of Law
Research Expertise and Interest
economics
,
industrial organization
,
regulation
,
antitrust
Research Description
Aaron Edlin is a leading expert in economics and law, and the co-founder of the Berkeley Electronic Press. At age 30, he held a Ph.D. in economics and J.D. in law from Stanford; tenured professorships in both the economics department and law school at UC Berkeley; and served as Senior Economist at the Council of Economic Advisers in the Clinton White House covering industrial organization, regulation and antitrust. He is co-author with P. Areeda & L. Kaplow of the leading casebook on Antitrust as well as many articles on industrial organization, competition policy, antitrust law, and a variety of other issues in economics, law and public policy. He received his AB Summa Cum Laude from Princeton.