Vice Chancellor for Research Beth Burnside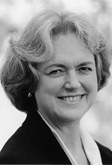 Beth Burnside is the former Vice Chancellor for Research and Professor of Molecular and Cell Biology at the University of California, Berkeley. As Vice Chancellor for Research during 2000 - 2009 she was responsible for university industry relations, research compliance, research communications and research support for the Berkeley campus. Her administrative portfolio included management of forty campus research units, twelve research museums and remote field stations, and the Offices of Sponsored Projects, Technology Licensing, and Lab Animal Care.

A native of San Antonio, Texas, Dr. Burnside received her B.A., M.A., and Ph.D. in Biology at the University of Texas, Austin. Following postdoctoral appointments at the Hubrecht Laboratories in Utrecht, The Netherlands, at Harvard University, and at Harvard Medical School, she was appointed Assistant Professor of Anatomy at the University of Pennsylvania School of Medicine in 1973. In 1977 she moved to UC Berkeley where, in addition to her professorship in Cell and Developmental Biology, she served as Dean of Biological Sciences from 1983 to 1990, during the extensive reorganization of the Biological Sciences that took place on the Berkeley campus. 

Dr. Burnside was appointed a Chancellor Professor at Berkeley and a Fellow of the American Association for the Advancement of Science. She has served on the Scientific Advisory Board and the National Advisory Eye Council of the National Eye Institute of the NIH as well as numerous other scientific advisory boards and committees. Other honors include two Distinguished Teaching Awards at Berkeley, a Merit Award from the National Eye Institute, and an Outstanding Alumnus Award from the Graduate School of the University of Texas, Austin. 

Her own research interest is the cell biology of retinal photoreceptors. Her laboratory studies the roles of cytoskeletal motors in motile processes critical to photoreceptor development and survival. Currently her lab is investigating the function of myosin 3A, a unique kinase- bearing myosin selectively expressed in photoreceptors. Since mutations of this myosin are known to cause retinal degeneration in fruitflies, her lab is trying to ascertain whether defects in this gene lead to retinal degeneration in humans and to understand what role myosin3 plays in vertebrate photoreceptors.