Former Interim Vice Chancellor for Research G. Steven Martin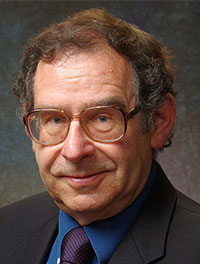 G. Steven Martin served as Interim Vice Chancellor for Research with overall responsibility for UC Berkeley's research endeavor. He provided primary leadership in research policy, planning, and administration, including relations between the university and industry, research compliance, research communications, and research support for the Berkeley campus. His administrative portfolio included management of over fifty campus research units, twelve research museums and remote field stations, and research administration offices including the Office of Research Administration and Compliance, the Office of Intellectual Property & Industry Research Alliances (IPIRA), and the Office of Laboratory Animal Care.
Dr. Martin is Professor Emeritus of Cell and Developmental Biology, and most recently served as dean of the Biological Sciences Division in the College of Letters and Science from 2011 to 2016. In his role as dean, Steve maintained the division's research excellence, supervised the recruitment of twenty-five new faculty members, and oversaw the successful retention of twelve others. The departments that comprise the Biological Sciences Division — Molecular & Cell Biology and Integrative Biology — continue to receive high rankings and attract outstanding students and faculty.
Throughout his tenure as dean, Steve also supported the creation of and fundraising for a number of major research and educational initiatives including the Innovative Genomics Initiative, the Immunotherapeutics and Vaccine Research Initiative, and the Berkeley BRAIN Initiative. He also raised funds to support the Biology Scholars Program — one of the nation's most successful STEM diversity programs — and secured the establishment of three new endowed chairs. As dean, Steve was heavily involved in the transition to, and ongoing relationship with, Campus Shared Services, and he will bring to this interim role an on-the-ground understanding of research administration as well as demonstrated success in fostering faculty-led interdisciplinary research programs.
Dr. Martin received his Ph.D. in molecular biology from the University of Cambridge, and first came to campus in 1968 as a postdoctoral fellow. After working for several years at the Imperial Cancer Research Fund in London, he returned to Berkeley as an Assistant Professor in 1975. He served as Head of the Division of Cell and Developmental Biology in the Department of Molecular and Cell Biology from 1999 to 2004, and as Chair of the Department of Molecular and Cell Biology from 2007 to 2011. From 2002 to 2007 he was the Richard and Rhoda Goldman Distinguished Professor of Cell and Developmental Biology. Honors include a John Simon Guggenheim Memorial Foundation Fellowship and election as a Fellow of the Royal Society.
His major contributions stem from his initial identification, in 1970, of the transforming gene of Rous sarcoma virus, which causes a type of cancer in chickens. This viral gene was subsequently named v-src, and found to be derived from a cellular gene, called c-src. Many human breast and colon cancers display elevated levels of the Src protein, and Src plays a variety of roles at different stages of tumor progression. Martin's work has primarily concerned with the identification of the signaling proteins and pathways that mediate the effects of Src on cell proliferation and motility. This work has shed light on the role of Src activation in the growth and invasiveness of human cancer cells.
Appointed in August 2017, Dr. Martin will serve through December 2017, while the University conducts an internal search for the next Vice Chancellor for Research.