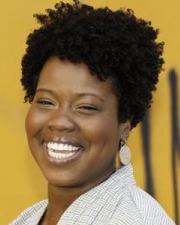 Erin Kerrison
Title
Assistant Professor
Research Expertise and Interest
crime
,
criminal justice
,
drug control
,
gender
,
health disparities
,
inequality
,
law
,
mass incarceration
,
mental health
,
mixed methods
,
policing
,
policy
,
poverty
,
prisons
,
punishment
,
race
,
risk
,
reentry
,
substance abuse
,
trauma
,
violence
,
race and gender
,
artificial intelligence
,
data science
,
social work and education
,
social work
Research Description
Dr. Kerrison's work extends from a legal epidemiological framework, wherein law and legal institutions condition structural determinants of health.  Specifically, through varied agency partnerships, her mixed-method research agenda investigates the impact that compounded structural disadvantage, concentrated poverty, and state supervision has on service delivery, substance misuse, violence and other health outcomes for individuals and communities marked by criminal legal system intervention.
In the News
April 23, 2020
There are various reasons COVID-19 is killing black people at six times the rate of white people. But one largely unexamined contributor to the disparity is the trauma and stress caused by police violence in those communities, and the physical toll of that violence.