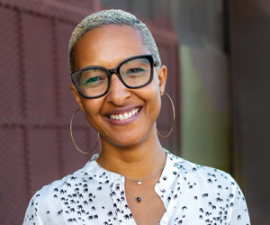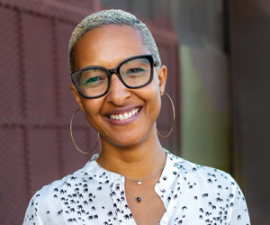 Research Expertise and Interest
black geographies, urban geography, race and urban aesthetics, urban planning, urban design, architecture, political economy
Research Description
Brandi Thompson Summers is associate professor of Geography at the University of California, Berkeley. She received her Ph.D. in Sociology from the University of California, Santa Cruz and a Masters degree in Social Sciences at the University of Chicago. Her research builds on epistemological and methodological insights from cultural and urban geography, urban sociology, African American studies, and media studies by examining the cultural, political, and economic dynamics by which race and space are reimagined and reordered.
Her first book, Black in Place: The Spatial Aesthetics of Race in a Post-Chocolate City(link is external) (UNC Press), explores how aesthetics and race converge to locate or map blackness in Washington, D.C. In it, she demonstrates the way that competing notions of blackness structure efforts to raise capital and develop land in the gentrifying city. Her current research project is an interdisciplinary study that examines the complex ways in which uses of space and placemaking practices inform productions of knowledge and power. The study examines representations and experiences of space, place, and landscape in Oakland across historical contexts.
She has published several articles and essays that analyze the relationship between race, power, aesthetics, and urbanization that appear in both scholarly and popular publications, including New York Times, The Boston, Globe, Urban Geography, Antipode, and The Funambulist. Summers is a member of the Editorial Collectives at City and ACME, and is on the editorial boards of Urban Geography, cultural geographies, Environment and Planning F, AAG Review of Books, and City & Community. Her research has been supported by the Andrew W. Mellon Foundation, Institute for Citizens & Scholars and the Social Science Research Council, among others.