Signatures Innovation Program seeks faculty pursuing innovative research in data science and software areas
The Office of the Vice Chancellor for Research, in partnership with CITRIS and BIDS, will be hosting an info session for prospective applicants to the Signatures Innovation Fellows Program on Wednesday, December 9, 2015 from 4:00 to 5:00 pm at BIDS, 190 Doe Library.
The program provides up $100K/year to UC Berkeley faculty and researchers in the data science and software areas.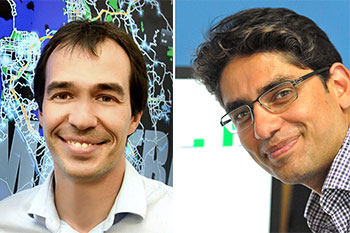 Brief presentations by current Signatures Innovation Fellows, Jasjeet Sekhon, who is working to improve tools for public opinion research and Alexei Pozdnukhov with a project focused on urban mobility analytics will be followed by Q & A about the application process with David Culler who chairs the program's selection committee. 
Jasjeet Sekhon's research has led to simpler, less expensive public health surveys, which have boosted public acceptance of essential vaccinations and helped move the dial on public acceptance of climate change. With Sekhon's new strategies, a small, non-random sample could yield precise results that would have otherwise required a much larger, randomly selected sample, in turn providing a much cheaper and faster way to get to the desired end point.
Alexei Pozdnukhov's  SmartBay is using cellular data to aid traffic planning and operations. His team developed software that for the first time can mine the record of geo-tagged data from travelers' mobile devices to provide a close approximation of mobility patterns in cities. Fully developed, this technology could aid both traffic control and planning to keep pace with changes in transportation habits resulting in a much more efficient and  enjoyable commute for all of us.
The Signatures Innovation Fellows Program supports UC Berkeley faculty and researchers in the data science and software areas with a special focus on projects that hold commercial promise. The Signatures Innovation Fellows Program is committed to the development and support of visionary faculty entrepreneurs and their teams of post-docs and graduate students interested in launching start-up companies.
Signatures Innovation Fellows each receive discretionary research support of up to $100K/year for a maximum of two years. In addition, the Fellows become part of and contribute to an ecosystem that brings together faculty, post-docs, students, staff and alumni to form a strong network that assists researchers in introducing their discoveries to the market. 
Information about the program, the fellows and details of the application process and requirements is posted on the Signatures Innovation Fellows Program website. Applications for the new cohort of fellows are due Tuesday, December 22, 2015.