Institute of Transportation Studies
For more than 50 years, the Institute of Transportation Studies at the University of California, Berkeley, has been one of the world's leading centers for transportation research, education, and scholarship.
The Institute's programs receive over $25 million in research funds each year. More than 100 faculty members and staff researchers and more than 100 graduate students take part in this multidisciplinary program. Research is carried out at the centers listed below.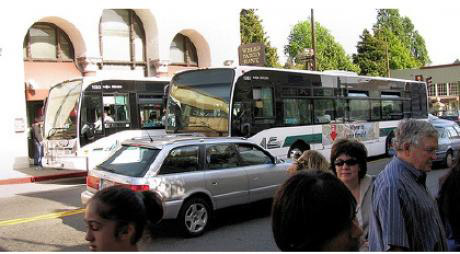 The Berkeley Center for Future Urban Transport is a Volvo Research and Educational Foundation Center of Excellence.  The Center's mission is to study the mutual interdependence of urban transportation policy and technology and use the understanding of that concept to devise sustainable transportation strategies for the world's cities.
The National Center of Excellence for Aviation Operations Research (NEXTOR) is a consortium sponsored by the Federal Aviation Administration, consisting of UC Berkeley and four partner universities. Research areas addressed by NEXTOR include advanced air traffic management systems, air traffic safety and security, and the performance and productivity of the nation's aviation system.
Partners for Advanced Transportation Technology (PATH) work to develop solutions to the problems of California's surface transportation systems through cutting edge research. PATH develops these solutions by harnessing the knowledge of transportation researchers, working in conjunction with experts in the fields of information technology, electrical engineering, mechanical engineering, economics, transportation policy and behavioral studies.
The Pavement Research Center (PRC) uses innovative research and sound engineering principles to improve pavement structures, materials, and technologies for pavements of all types, including concrete and asphalt.
The Safe Transportation Research and Education Center (SafeTREC)is a joint venture of ITS and the School of Public Health. Its goals are to reduce traffic fatalities and injuries through multi-disciplinary collaboration in education, research, and outreach, and to make traffic safety information widely available.
The Transportation Sustainability Research Center (TSRC) combines the research forces of six campus groups at UC Berkeley: the University of California Transportation Center, the University of California Energy Institute, the Institute of Transportation Studies, the Energy and Resources Group, the Center for Global Metropolitan Studies, and the Berkeley Institute of the Environment. It is a leading center in conducting timely research on real-world solutions for a more sustainable transportation future. Research efforts focus on advanced vehicles and fuels, energy and infrastructure, goods movement, innovative mobility (e.g., carsharing, ridesharing, and public bikesharing), mobility for special populations, and transportation and energy systems analysis.
The University of California Transportation Center (UCTC) is a multi-campus research center funded jointly by USDOT and Caltrans and headquartered at Berkeley, which provides fellowships to graduate students studying transportation engineering or transportation planning, and seeds faculty research in the theme of transportation systems analysis and policy.  The consortium focuses on three themes—environmental sustainability, economic competitiveness, and livability—and the connections between them.
The Transportation Library is among the world's leading transportation libraries. It serves academic researchers and students throughout the UC system, as well as local, state and federal transportation agencies. Private clients can join its Corporate Circle Program to enjoy enhanced reference and borrowing services.
The Institute's Technology Transfer Program is the California transportation community's source for professional development.  The Technology Transfer Program provides training, workshops, conferences, technical assistance and information resources in the transportation-related areas of planning and policy, traffic engineering, project development, infrastructure design and maintenance, safety, environmental issues, railroad and aviation.
Website
Director
Email:
director@its.berkeley.edu
Mailing Address
109 McLaughlin, Berkeley, CA 94720 - 1720