Institute for the Study of Societal Issues
Founded in 2009 by merging the Institute for the Study of Social Change and the Survey Research Center, the Institute for the Study of Societal Issues (ISSI) provides an intellectual home for quantitative and qualitative interdisciplinary research on societal issues. ISSI's research mandate is to focus on the wide array of issues that permeate public debate, politics, and policy in societies throughout the world. Although a significant amount of the Institute's scholarship is focused on American society, international events and issues that impact American social life, as well as those that impact various other societies, are studied. Three broad themes characterize this research. The first is an attention to the multiple ways that the economy; the social divisions of race, class, and gender; and the environment impact various societies. The second is the development of innovative methodological tools for conducting social science research. Researchers at the Institute use a variety of methodologies that include survey research, experiments, participant observation, in-depth interviewing, and historical archives. Further, there is a continuous effort to develop new approaches within these broad methodologies and teach them to interested scholars and practitioners. The third theme involves the collection and archiving of national, state, and local data sets for public analysis and the dissemination of and technical support for the use of these data. 
ISSI realizes this mission by developing new research centers, projects and initiatives and securing extramural funding to support these initiatives; supporting faculty research; building interdisciplinary networks between faculty and graduate student researchers; providing research training to faculty, students, and professionals; providing training, mentoring and professional development to graduate students; disseminating research publications; facilitating graduate student and faculty working groups; and convening working groups, colloquia and conferences.
Research Programs
The Institute has a number of centers that initiate multidisciplinary research projects in addition to a variety of other activities including the development of research monographs, colloquia and conferences, data archiving, and training workshops.
Berkeley Population Center

  is an interdisciplinary center for population research on the Berkeley campus and beyond, and is currently supported by a Population Research Infrastructure Program (PRIP) grant from the Eunice Kennedy Shriver National Institute of Child Health and Human Development. The Center's mission is to promote research and collaboration on all aspects of population studies.

Center for Latino Policy Research

  sponsors research efforts that have a direct policy impact on the Latino/Chicano population in the United States. Recent research initiatives supported by the center have focused on issues related to education, immigration, the political and economic integration of various generations of Latinos, the health status of Latino populations in the US, and policy formulation and evaluation related to US Latinos.
Center for Right-Wing Studies encourages and nurtures comparative scholarship on right-wing movements both in the US and abroad during the 20th and 21st centuries. The center promotes research, publishes research findings, supports graduate and undergraduate training, and sponsors conferences, colloquia and other public events that bring together leading scholars to share new research and engage in interdisciplinary dialog related to this field of study.

Center for Research on Social Change

develops interdisciplinary research initiatives that examine the factors promoting and inhibiting social change in the United States and abroad. A major focus of the Center is how immigration, globalization, economic restructuring, and development of new technologies have shaped and changed the structure an culture of various spheres within societies throughout the world.
Center for the Study of Social Insurance  supports research on issues related to private and governmental programs and proposals to provide insurance for residents of the United States. The Center investigators conduct research across different occupational and non-occupational medical insurance areas, different public and private payer sources, and different levels of state and federal governmental regulation.

Center for Ethnographic Research

is devoted to research involving direct observation of social interaction in urban areas. Research using the three traditions of direct observation (positivist, symbolic interaction, and ethnomethodology) are represented within the center. Current projects include violence in schools, work strategies among poor youth in Iran and Morocco, sacrifice among US armed service families, health behavior among the elderly poor, Palestinians in refugees camps, and the influence of ethnicity and religion on Arab American business networks.

Joseph A. Myers Center for Research on Native American Issues

provides the people of Indian country with pragmatic research products that can be employed to improve the quality of life on Indian reservations across the U.S. The Center fulfills this mission by engaging in collaborative research projects, providing technical assistance and training; and sponsoring colloquia and other events open to the public on issues of concern to Native communities.

U.C. Data Archive and Technical Assistance (UCDATA)

is the principal archive of computerized social science and health statistics information.
California Census Research Data Center

 at UC Berkeley and UCLA are two of nine Research Data Centers (RDCs) established by the Center for Economic Studies (CES) of the U.S. Bureau of the Census in order to provide secure physical locations for researchers to study non-public microdata collected by the Census Bureau. These microdata files contain data that cannot be released publicly because they contain detailed information on geographic location and/or other characteristics about the firms or households that could disclose their identities.
Training
The Institute for the Study of Societal Issues provides a wide range of training for undergraduate and graduate students at the University. ISSI offers undergraduate research internships through the Undergraduate Researcher Apprentice Program, graduate student research opportunities on select projects, and the Graduate Fellows Program (GFP), which, for more than thirty years, has provided an interdisciplinary research and training environment as a complement to graduate programs in the social sciences and professional schools. ISSI also provides training for professionals in the academy, government, and private sector by offering workshops on methods that include participant observation, community-based alcohol and drug prevention strategies, computer-assisted data management programs, statistical analysis, and in-depth interviewing.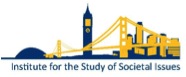 Website
Mailing Address
2420 Bowditch Street #5670, Berkeley, CA 94720 - 5670