Philomathia Foundation Chair in Alternative Energy
Philomathia Foundation Chair in Alternative Energy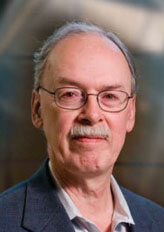 Chris Somerville, a professor in the Department of Plant and Microbial Biology and Director of the Energy Biosciences Institute currently holds the Philomathia Chair in Alternative Energy.
Dr. Somerville was a professor at Stanford University and director of the Carnegie Institution for Science from 1994-2007 and a professor at Michigan State University from 1982-1993.  He has published more than 200 scientific papers and patents in plant and microbial genetics, genomics, biochemistry, and biotechnology.  His current research is focused on the characterization of proteins, such as cellulose synthase, implicated in plant cell wall synthesis and modification. He is a member of the US National Academy of Sciences, The Royal Society of London and the Royal Society of Canada and has received numerous scientific awards including the Gibbs and Schull awards from the American Society of Plant Biologists, the Mendel Medal from the Genetics Society, the Hopkins medal from the Biochemical Society, the Khumo Award from the Plant Molecular Biology Society and most recently the Balzan Award which he shared with Elliot Meyerowitz (Caltech) for their role in helping to develop the current paradigm in plant molecular biology.
The first faculty member to hold the Philomathia Chair in Alternative Energy was Dr. Stephen Chu who held the chair from its establishment until his departure from UC Berkeley in the fall of 2008 when he accepted the nomination to serve as the U.S. Secretary of Energy.   Prior to becoming U.S. Secretary of Energy, Dr. Chu served as a Professor of Physics at UC Berkeley and as the Director of the Lawrence Berkeley National Laboratory.