Institute for Research on Labor and Employment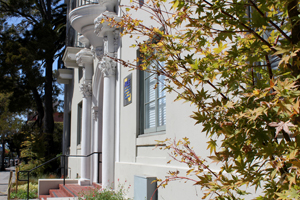 The Institute for Research on Labor and Employment (IRLE) supports research concerning labor and working life with a broad, interdisciplinary emphasis. IRLE currently has more than 80 faculty affiliates from over a dozen different academic disciplines, spanning the humanities, social sciences, and the professional schools. Founded in 1945 by Professor (later Chancellor) Clark Kerr, IRLE has expanded its research mandate to include not only labor and industrial relations, but also many related areas of study. These include low-wage labor markets, employer-based health insurance, the high tech workforce, immigration, globalized labor markets, work and technology, cultural geography, green jobs and the green economy, workforce demography and work and family issues.
Since 2011 IRLE has opened new areas of study and has made important contributions to national debates about health care, living wages, and how to respond to The Great Recession. IRLE's Labor Center, in conjunction with UCLA, produced an online National Health Care Calculator, which enables families to estimate their health care expenses under the Affordable Care Act. This calculator attained copyright and is available under license to interested parties.  IRLE and the Labor Center have published many important policy papers about the Affordable Care Act as well as several studies of the Healthy San Francisco program in the city of San Francisco.
As interest in living wage policy and its impact has increased, IRLE has responded by publishing a number of important policy briefings that introduce new, evidence-based research on the actual impact of living wages. Since the Great Recession began in 2008, the Center on Wage and Employment Dynamics (CWED) has published several policy briefings that address both California's possible responses to the Great Recession, as well as national-level strategies to turn the economy aroundIRLE provides substantial direct support to its affiliated faculty members, enabling them to conduct multi-year projects and attract excellent graduate student researchers to the IRLE community. It is noteworthy that over the past several years, IRLE has been able to sustain this critical faculty program despite the overall fiscal challenges facing the University.
Research Programs
Faculty Working Paper Series:  IRLE and its centers publish several working paper series, which are available on the IRLE Web and are also included in the California Digital Library's eScholarship Working Paper Repository, under the Library's oversight.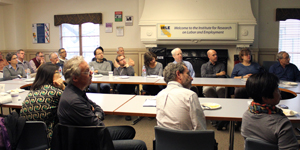 Conferences:  IRLE hosts high-profile conferences that cover various aspects of work and employment, and which attract scholars with international reputations. In fall 2011, IRLE convened a conference titled, "A New New Deal," which was co-chaired by IRLE Director Michael Reich and Richard A. Walker, Professor of Geography (Emeritus). In fall 2012, IRLE hosted a conference titled "What Future for Jobs and Manufacturing?" Both events attracted more than 60 attendees. The 2012 conference was recorded and is available in Podcast and online video formats. In spring 2012, IRLE, the Labor Center, and CWED co-sponsored a "teach in" that featured Robert Reich, Emmanuel Saez and many other leading researchers in a wide-ranging discussion of how to generate jobs and careers in the current economic climate, attracting over 100 attendees and fostering a lively debate.
Research Colloquia:  IRLE sponsors a colloquium series during each semester, at which Berkeley faculty and scholars from outside the University present their research. Recent topics include: Changing Labor Market Institutions in the United States; Labor Markets and Globalization; and Workforce Problems and Metropolitan Economies; and Changes in Job-Based Health Coverage Under the New Federal Health Law.
Key Publications: Industrial Relations: A Journal of Economy and Society, IRLE's peer reviewed journal, is considered the pre-eminent journal in its field, and has been distinguished as the most frequently cited journal in industrial relations literature.
Library:  The Institute for Research on Labor and Employment Library has been recognized by the American Library Association and AFL-CIO for outstanding service to the Labor Movement, and maintains strong outreach programs to the community. It is also the site for all digital initiatives and Web administration.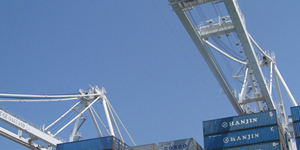 Research Centers
California Studies Center: The center advances broad scholarly research on the past and present of the State of California, unbounded by traditional disciplinary restrictions.
Center for Culture, Organizations and Politics: The center investigates how social arrangements evolve to organize new social spaces. This set of approaches has been labeled "new institutional theories."
Center for the Study of Childcare Employment: The center assesses the issues raised by the prevalence of dual-income families and their resulting reliance on non-family workers. It is also deeply involved in studying the educational needs of childcare employees.
Center for Work, Technology and Society: The Center studies technology's impact on how work is done, how work and technology are managed, and the skills and knowledge required for work.
Center on Wage and Employment Dynamics (CWED): CWED focuses on wage and employment dynamics in contemporary labor markets, and publishes policy briefs that focus on pragmatic analysis of contemporary wage issues.
Donald Vial Center on Employment in the Green Economy (The Vial Center): The Vial Center conducts research on the technical training and workforce development needs that stem from the "green economy." The Center has received major support from the California Public Utility Commission.
Interdisciplinary Immigration Workshop:  Founded by Sociology Professor Irene Bloemraad, the Workshop provides students with a multi-disciplinary forum for collaboration.
Labor Project for Working Families (LWPF): LWPF conducts research on workforce needs for "family friendly" personnel policies.
The Living New Deal Project: California's Living New Deal Project is a joint project of the Geography Department, California Studies Center and the IRLE Library. It sponsors an interactive Web site that enables scholars and citizens to use its Web site to document artifacts of the New Deal throughout the state.
Work & Health Initiative:  Policy research, public service, and community education in workers' compensation, with projects focusing in particular on the return-to-work process and legal services for injured workers.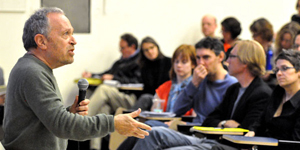 Community Outreach Programs
IRLE is distinctive among Berkeley ORUs in that it balances services to campus communities with services to external constituencies, including policy makers, energy providers, unions and their members, and human resource managers.
The Center for Labor Research and Education: The Labor Center is IRLE's flagship outreach program. It addresses labor issues within California in concert with labor leaders, policy makers and the faculty. The Labor Center sponsors extensive research about labor unions and the issues surrounding labor, as well as a broad spectrum of lectures, colloquia and seminars.
California Public Employee Relations: CPER was created by an act of the California legislature to study labor issues and to provide research and current analysis to the legal profession, human resources professionals and the Labor Movement. CPER publishes "pocket guides" which are designed to provide quick, straightforward answers to employees and human resources professionals, as well as a comprehensive overview of specific labor laws for general readers.
Website
Staff Contact
Email:
barbcampbell@berkeley.edu
Mailing Address
2521 Channing Way, Berkeley, CA 94720 - 5555