Institute of European Studies
The Institute of European Studies (IES) serves all UC campuses and houses the Center for German and European Studies, the National Resource Center for West European Studies, the Portuguese, Finnish, French, Italian, British, and Spanish Studies Programs. Through extensive research activities and the training of a generation of graduate students, the centers in this institute have effectively promoted a long-term commitment to European Studies at Berkeley, throughout the state of California, and in the nation as a whole.
The Institute's mission is threefold: 1) to stimulate, initiate, facilitate, and finance research and education in European Studies at the University of California, 2) to disseminate research findings to the broader community of scholars, citizens, and younger students, and 3) to provide a community for students and faculty who share a European focus to their work.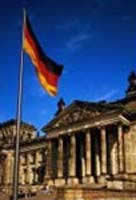 To achieve these ends, the Institute sponsors faculty and graduate student research on Europe focusing on thematic areas and current issues. In order to disseminate research, the Institute, along with the various programs under its umbrella, initiates and sponsors conferences, colloquia, workshops, and lectures; maintains a /Working Paper Series /to distribute research results; and brings together European and American scholars in order to encourage the current exchange of ideas and to promote future collaboration.
The Institute also maintains a fellowship program to support the training and nurture the research of young scholars, including undergraduate and graduate students as well as students in professional schools. The Institute provides funds for faculty to develop new courses in a variety of disciplines, favoring innovative approaches to the study of Europe and European languages. Indeed, IES serves as a hub for the coordination and integration of all the diverse educational resources on Europe throughout the UC system.
Finally, IES has built strong bridges between Berkeley, top academic and research institutions in the US and Europe, European governments, and the Commission of the European Communities. The Institute has ongoing relationships with the German Academic Exchange Service, the American Institute of Contemporary German Studies in Washington, DC, the Austrian Marshall Plan Foundation, the Institute of International Affairs at the University of Rome, the Université Libre de Bruxelles, Viadrina University in Frankfurt (Oder), and many other prominent European institutions. The results of Berkeley faculty research have been presented to the European Commission, the European Parliament, the Presidium of Europe's Constitutional Convention, and Europe's G-10 deputies (deputy finance ministers and central bank governors), and have received wide press coverage.
Website
Mailing Address
207 Moses Hall
Berkeley, CA 94720-2316
(510) 643-2115