2016 Recipients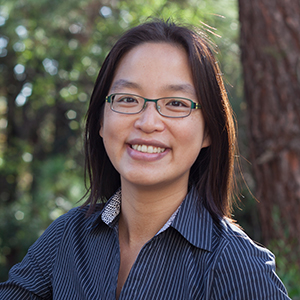 Ming Hammond
Assistant Professor, Department of Chemistry and Department of Molecular and Cell Biology
Grant: New Research Grant
Title: Bringing Chemical Tools to Study RNA Epigenetics
Abstract: This collaborative research project seeks to overcome a key technological roadblock to understanding the function and regulation of the most common epigenetic RNA modification, called m6A (N6-methyladenosine). The research proposal spans biological and chemical sciences and brings together two women faculty with strong track records of accomplishment and innovation in the study of m6A modification (Dr. Guifang Jia) and cofactor chemistry (Dr. Ming Hammond). In addition to leveraging our complementary expertise to develop a transcriptome-wide sequencing method for single-base resolution mapping of m6A RNA modification, we will use the grant funds to visit each other's labs and promote each other's research through a series of seminars at universities in the Bay Area and China.
Profile: Dr. Hammond graduated from the California Institute of Technology with a B.S. in Chemistry with Honors in 2000. As a Howard Hughes Medical Institute predoctoral fellow, she earned her Ph.D. in Chemistry from UC Berkeley in 2005 with Dr. Paul Bartlett for development of beta-strand peptide mimics that are programmable to block specific protein-protein interactions. As a Burroughs Wellcome Fund Career Award at the Scientific Interface fellow, Hammond performed postdoctoral research at Yale University with Dr. Ronald Breaker, where she switched to studying small molecule-binding RNAs called riboswitches. Hammond rejoined UC Berkeley in 2009 as an Assistant Professor in the Department of Chemistry and Department of Molecular and Cell Biology. Her research supported by an NIH New Innovator Award focuses on RNA-based fluorescent biosensors for enzyme discovery, activity profiling, and small molecule imaging in live cells. Highlights include the first turn-on sensors for imaging signals called cyclic dinucleotides and discovery of a signaling molecule and riboswitch receptor that regulates electrical current production in Geobacter bacteria, which was one of Science Signaling journal's "2015 Signaling Breakthroughs of the Year." 
Collaborator in China: Dr. Guifang Jia, College of Chemistry and Molecular Engineering, Peking University
---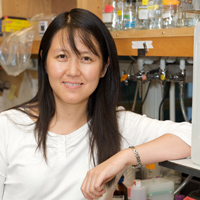 Lin He
Associate Professor of Cell and Developmental Biology, Department of Molecular and Cell Biology
Grant: Research Grant for Previous Recipients
Title: Identify and Characterize miRNA Regulators for Lung Cancer Metastasis
Abstract: My research group received funding from the Chau Hoi Shuen Foundation Woman in Science program last year, which allowed us to establish a fruitful collaboration with Dr. Lixing Zhan's group at Shanghai Institutes for Biological Sciences at the Chinese Academy of Sciences, and to foster a close interaction among members of the two groups. In 2015, we successfully demonstrated that the miR-200 family miRNAs are potent regulators to restrict the metastatic potential of lung adenocarcinomas. During this collaboration, Dr. Zhan's lab developed a novel 3D cell culture system to measure the metastatic potential of lung adenocarcinoma cells, while my lab developed powerful mouse models to study lung cancer metastasis in vivo. We are currently joining forces to characterize the molecular and cellular mechanisms of miR-200 functions in restricting the metastatic potential and to explore the clinical significance of our finding using genomics and human clinical samples. This study would generate important findings in the miRNA and cancer field.
Profile: Dr. Lin received her doctoral degree at Stanford Medical School with Dr. Greg Barsh, before her postdoctoral training with Dr. Greg Hannon at Cold Spring Harbor Laboratory. She joined the Berkeley faculty in 2008 to explore the roles of microRNAs in the oncogenic and tumor suppressor pathways using mouse tumor models. Dr. Lin is currently an Associate Professor at UC Berkeley.
Collaborator in China: Dr. Lixing Zhan, Institute for Nutritional Sciences, Shanghai Institute for Biological Sciences, Chinese Academy of Sciences
---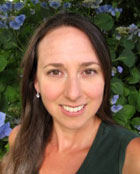 Amy Herr
Lester John and Lynne Dewar Lloyd Distinguished Professor, Department of Bioengineering
Grant: New Research Grant
Title: High Selectivity Single Cell Measurements
Abstract: Owing to the hypothesized involvement of tumor initiating cells in seeding metastases, recent research suggests that these cells may be powerful new prognostic biomarkers. This variation may dictate how many cells are required to seed metastasis and what defines cell aggression. Modifications to intracellular proteins (e.g., phosphorylation) drive cell signaling and are implicated in migration and aggressiveness. We will design and develop single cell resolution measurements of key signaling proteins and phosphorylated forms in single cells. Presently, no analytical tools exist to quantify cell to cell variation in protein signaling and activation with the multiplexing and sensitivity needed for single cell profiling. By designing sophisticated single cell protein separations, we aim to contribute new ways to understand signaling activation among individual cells in sparingly limited starting populations. This study would serve as pilot research for follow on studies linking the cell to cell variation in activation to prognosis with clinical partners.
Profile: Dr. Herr received a B.S. degree in Engineering and Applied Science from the California Institute of Technology and M.S. and Ph.D. degrees from Stanford University in Mechanical Engineering. She is currently the Lester John and Lynne Dewar Lloyd Distinguished Professor of Bioengineering at UC Berkeley. Prior to joining UC Berkeley, she was a staff member in the Biosystems Research Group at Sandia National Laboratories (Livermore, CA). Her research interests include bioinstrumentation innovation needed to advance quantitation in life sciences and clinical problems, in particular the study and application of electrokinetic phenomena in multi-stage, heterogeneous bioanalytical microsystems. Her pedagogical interests are in bioengineering design, including innovation and translation. Dr. Herr is an elected Fellow of the American Institute of Medical and Biological Engineering (AIMBE) and a Board member of the Chemical & Biological Microsystems Society (CMBS). She is also faculty advisor to the UC Berkeley chapter of the Society of Women Engineers (SWE) and the Graduate Women in Engineering (GWE).
Collaborator in China: Dr. Zhao Meiping, College of Chemistry and Molecular Engineering, Peking University