UC Transportation Center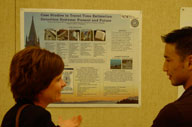 The University of California Transportation Center (UCTC) is a multi-campus organization headquartered on the UC Berkeley campus. It is part of the federal University Transportation Center program, serving as the UTC for Federal Region IX, having been selected in a competition in 2006.
UCTC carries out basic and applied research, published in journals and on the Center's web site. UTCs are asked to identify a "theme", and the UCTC theme is transportation systems analysis and policy. We organize and participate in conferences and workshops to discuss our research findings, inform public policy, and identify new and emerging research needs. We work with international, national, state, regional and local agencies and private organizations to put our research findings into practice.