Conference Proceedings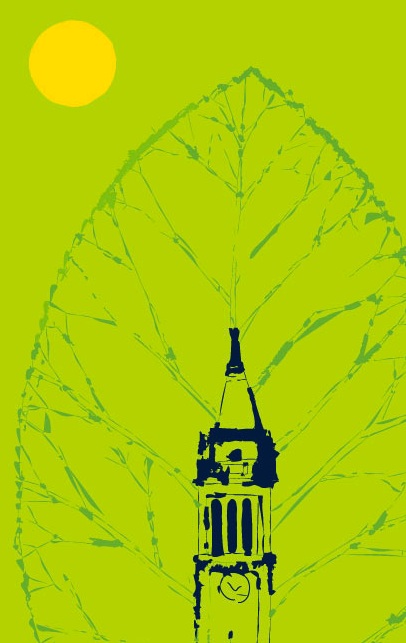 The Philomathia Foundation Symposium at Berkeley: Pathways to a Sustainable Energy Future
October 1–2, 2010
9 a.m.–5 p.m. both days (Doors open at 8:30 a.m.)
Friday, October 1, 2010
Lynn Yarris, Berkeley Lab News Center
At the opening day of the Philomathia Foundation Symposium at Berkeley: Pathways to a Sustainable Energy Future, the  audience learned the following three facts: as a result of carbon emissions from human activity, our planet's climate is changing faster than models have predicted; improved energy efficiency alone is not enough to fix the problem, therefore new breakthroughs in sustainable energy technologies are needed; however, as a nation, we spend more money on potato chips than we do on sustainable energy research and development.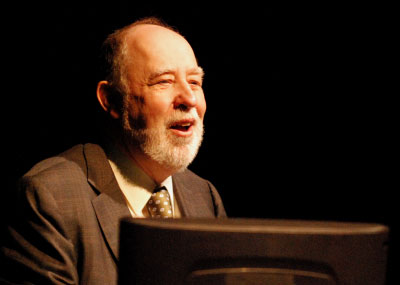 "The provision of sustainable energy is the defining problem of the 21st century, one that presents a challenge of unprecedented scale. Decisions we make now will influence the planet for thousands of years, and dictate our quality of life in both the near and long term," said Graham Fleming, Vice Chancellor for Research at the University of California (UC) Berkeley and a faculty scientist at Lawrence Berkeley National Laboratory (Berkeley Lab).
Fleming was the organizer of a two day public symposium held on October 1 and 2, 2010 at the Berkeley Repertory Theatre that featured leading authorities on solar and biofuel energy, climate science, urban design and other areas of research critical to sustainable energy technologies. Sponsored by the Philomathia Foundation and hosted by UC Berkeley, the symposium was intended to lay out the best course of action for a clean, green energy future. Nearly a thousand people registered for the event, which included a live Webcast of the proceedings.
Following a video welcome from UC Berkeley Chancellor Robert Birgeneau and opening remarks from Fleming, the symposium kicked off with a presentation by Ralph Cicerone, President of the National Academy of Sciences, titled "Climate Change and Human Usage of Energy."
Early in his presentation, Cicerone, an expert on atmospheric chemistry, climate change and energy, showed a graph of the monthly average atmospheric carbon dioxide concentrations recorded for the past 50 years at observatories in Hawaii and the South Pole. The climb upwards has been both relentless and steep, rising from approximately 310 parts per million to about 385 parts per million. Another graph showed that global fossil fuel carbon dioxide emissions went from virtually zero in the mid-1800s to approaching 9 billion tons in 2010.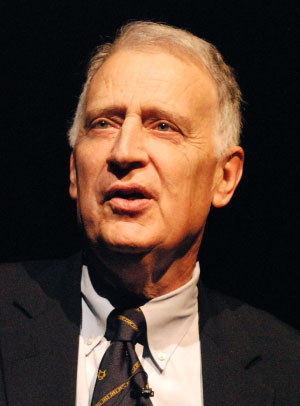 "This increase in carbon dioxide is from human activities," Cicerone said, "with approximately 85-percent coming from the burning of fossil fuels and the rest from deforestation."
The evidence for human activity being responsible for the increase in atmospheric carbon dioxide levels is overwhelming, Cicerone said, citing among other factors the rise in carbon dioxide levels that mirrors the usage of fossil fuels, and the geographical patterns and isotopic contents of atmospheric carbon dioxide that match human industry. He also noted that not only do contemporary atmospheric carbon dioxide amounts exceed those of the previous four glacial cycles, but ice-core data show that methane and nitrous oxide amounts are also higher than ever before.
"There is virtually no remaining suggestion that the atmospheric carbon dioxide increase is the result of anything other than fossil fuel usage," Cicerone said.
Sea-levels are also on the rise, with average tides now some 20 centimeters higher than they were at the end of the 19th century. Furthermore, the oceans are getting both warmer and more acidic, neither of which is beneficial for us.
Cicerone said that whereas the physical principles behind the "greenhouse effect" can explain the global warming that has transpired since the late 1970's, whereas other explanations, such as the notion that the sun is putting out more energy, fail.
In talking about the scale of what needs to be done, Cicerone said that to stabilize atmospheric carbon levels and keep them out of the danger zone, we must keep carbon dioxide emissions below one gigaton per year. This, he said, will require that energy use in buildings be cut 20-25 percent below business as usual in 2050, or that two billion cars get 60 miles to the gallon rather than 30, or that carbon be captured and stored for 800 1-GWe coal-burning power plants, or 700 1-GWe nuclear plants replacing coal plants, or one million 2-MWe(peak) wind turbines replacing coal power plants, or 2,000 1-GWe(peak) photovoltaic power plants replacing coal power plants.
While these numbers show how daunting the task of reducing carbon emissions will be, Cicerone did offer hope that it can be done, citing the impact of energy-efficiency advocate Art Rosenfeld, a Berkeley Lab and UC Berkeley scientist and California Energy Commissioner. As a result of Rosenfeld's recommendations, electricity use per person in this state has remained relatively flat for the past 39 years, while it has steadily increased for the rest of the United States.
"Improved energy efficiency would decrease our dependency on foreign oil, improve our national security, decrease our trade deficit, decrease local air pollution, increase our national competitiveness, encourage development of new products for global markets, and decrease household energy costs," Cicerone said. "At the same it would also slow the increases of atmospheric carbon dioxide and methane."
The Environment
Presentations at the Philomathia Foundation energy symposium were organized into four key areas: environment, energy supply, energy demand and energy policy. Keynoting the session on environment was Chris Field, founding director of the Carnegie Institution's Department of Global Ecology, and professor of biology and environment at Stanford University. He is also co-chair of the International Panel on Climate Change's Working Group Two.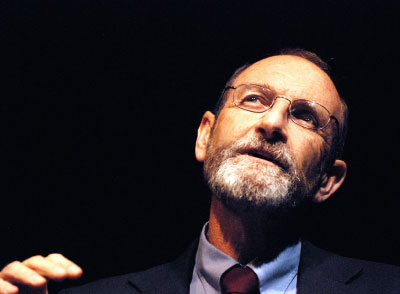 In his talk, titled "The Velocity of Climate Change," Field cited an article in 1896 in the Philosophical Magazine and Journal of Science by the Swedish scientist Svante Arrhenius, in which he foretold of the greenhouse effect with startling accuracy. Field also noted that in 1965, President Lyndon Johnson acknowledged the threat of global warming from the burning of fossil fuels, as did a detailed study in 1979 from the National Academy of Sciences. In spite of these warnings that date back so many decades, the response to date has been inadequate.
"With regards to global climate change, we are playing with loaded dice and we are dumping nails on the road of life," Field said.
Field maintained that we have the technology and industrial know-how to solve the global climate problem, but there has been considerable foot-dragging when it comes to implementing these technologies on the time scales that are so critical to the problems of global climate change.
"The rate of climate change sets a pace for spatial shifts in species and ecosystems and for development of adaptation strategies by individuals, enterprises and nations," he said. "Critical interactions with the underlying rate of climate change come from the rate at which affected systems perceive that climate is changing and convert that perception into action."
Field used the Hoover Dam as an example of time scale for major energy infrastructures. Construction on the dam was started in 1931 and completed in 1936. As we all know, 75 years later, the dam is still in use with no replacement on the horizon.
"Cost alone means that these infrastructures are going to be around for a long time, but when you factor in the time required to retire an existing infrastructure and to develop, deploy, and scale new replacement technologies, the time scale becomes even larger," he said.
Climate changes persist many centuries and the risks such changes pose can never be predicted with 100-percent certainty, Field said. Meanwhile, developing solutions takes time and artificial controversy costs time and opportunity and allows risks and damages to accumulate. These factors all contribute to the foot-dragging which not only increases the risks but postpones the co-benefits of new technologies and jeopardizes opportunities to seize technological leadership.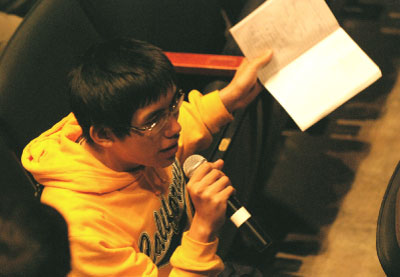 Field closed with a tribute to climate change scientist and fierce public advocate Stephen Schneider who passed away earlier this year, then posted a cartoon in which a skeptic asks: "What if (global warming) is a big hoax and we create a better world for nothing?"
Other presenters at the Environment session of the symposium were Berend Smit, UC Berkeley professor of chemistry and chemical engineering, who spoke on "Carbon Capture and Storage: Discovering the Science of Carbon Dioxide." William Collins, head of the Climate Science Department, Earth Sciences Division, Berkeley Lab, who spoke on "Advancing Climate Science for a Sustainable Energy Future." Charles Marshall, Director, UC Museum of Paleontology and UC Berkeley professor of integrative Biology, who spoke on "Gauging Ecosystem Response" and Inez Fung, Director, UC Berkeley Institute of the Environment, who spoke on "Verifying Climate Treaties."
Energy Supply
The energy supply session of the symposium was keynoted by Arun Majumdar, Director of the Advanced Research Projects Agency – Energy (ARPA-E), the country's only agency devoted to transformational energy research and development. Before taking this post in 2009, Majumdar served as Berkeley Lab's Associate Laboratory Director for Energy and Environment, and was a UC Berkeley professor of mechanical engineering and materials Science. In his talk, titled "Innovations in Energy Technologies – The Role of ARPA-E," Majumdar referred to today's energy crisis as our "Sputnik moment" in history.
"We have witnessed multiple wake-up calls with regard to the need for innovation in energy technologies," Majumdar said. "Yet we currently import 60-percent of our oil and we need to make that zero."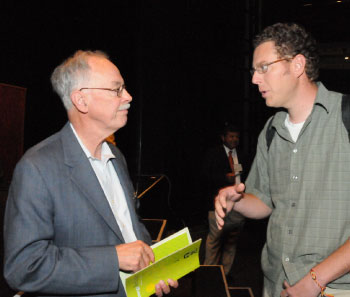 ARPA-E was created to address our nation's need to reduce energy imports, reduce energy-related emissions, improve energy efficiency of all economic sectors, and ensure technological leadership for the United States.
"This mission is at the core of our national, economic and environmental security," Majumdar said.
Majumdar lamented that other nations are currently being far more aggressive and far-sighted in their commitment to sustainable energy research and development than the United States. For example, he said there is only one U.S. firm ranked in the top ten global manufacturers of wind turbines and advanced batteries, and two in the top ten for photovoltaics. The other firms are from China, Denmark, France, Germany, India, Spain, Taiwan and the United Kingdom. He also noted that a company in Japan now produces more than 75-percent of the world's nickel-metal hydride batteries used in vehicles. In addition to spending more on potato chips than on sustainable energy R&D, we also spend more on dog food R&D than we do on electrical power R&D.
In its first round of R&D funding, ARPA-E has moved forward with unprecedented speed, Majumdar said. Between April and June 2009, 3,700 research proposals were received. Within three months, the review process was completed and in October of this year, ARPA-E expects to announce the selection of 37 projects to be funded an average of $4 million for two to three years.
One example of these selected projects was a grant to the biotechnology firm Agrivida for development of fuel plants that produce all the enzymes necessary for breaking down its lignocellulose from within, which Majumdar described as "Putting the cow inside the plant!" Other examples included grants for a high-efficiency Mixer-Ejector-Wind Turbine (MEWT) to the FloDesign Wind Turbine Corporation, and for a grid-level electric storage system to MIT.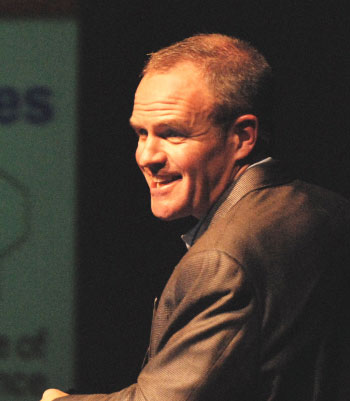 "At ARPA-E we are looking for new technologies, devices and prototype systems that do not exist in today's energy market, are too risky for private sector investment, and if successful could make today's technologies obsolete, could have large commercial impact, and could produce new learning curves and new markets," Majumdar said.
Other presenters at the Energy Supply session of the symposium were Chris Somerville, Director of the Energy Biosciences Institute and UC Berkeley's Philomathia Professor of Alternative Energy, who spoke on "Bioenergy." Alex Bell, UC Berkeley professor of chemical engineering and faculty researcher at Berkeley Lab, who spoke on "Chemical Strategies for Converting Biomass to Fuels." Paul Alivisatos, Director of Berkeley Lab and UC Berkeley's Larry and Diane Bock Professor of Nanotechnology, who spoke on "The Carbon Cycle 2.0 Initiative at the Berkeley Lab" and Jay Keasling, CEO, Joint BioEnergy Institute, faculty researcher at Berkeley Lab and UC Berkeley professor of chemical engineering and bioengineering, who spoke on "The Joint BioEnergy Institute: Start-up for Advanced Biofuels."
Saturday, October 2, 2010
Robert Sanders, UC Berkeley Media Relations
In his closing remarks Saturday afternoon, Vice Chancellor for Research Graham Fleming aptly summarized the day's presentations as "by turns sobering and exhilarating."
Exciting and innovative new ideas to boost the energy efficiency of buildings and the entire electrical grid, cut computer power usage and build eco-friendly housing were exhilarating.
More sobering were reports of increasing public skepticism about climate change, the difficulty of motivating consumers to adopt energy efficient technologies, governments dragging their feet on commitments to limit greenhouse gases, and doubt as to whether economic strategies like cap-and-trade and carbon taxes will actually drive down fossil fuel use.
 Nevertheless, a can-do spirit dominated.
"California and Berkeley are in the forefront of creating an energy landscape sustainable in our homes and at all levels," said Dian M. Grueneich, a commissioner with the California Public Utilities Commission (PUC) and a Berkeley resident. "Let's embrace this as our vision, our mission and our passion."
Energy Demand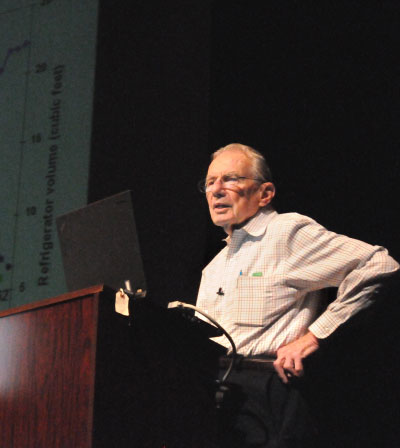 Passion certainly describes Arthur Rosenfeld's focus on energy efficiency. Starting in the mid-1970s, Rosenfeld has helped institute changes in building standards as well as lighting and appliance efficiency standards that have kept California's per-capita energy use flat for nearly 40 years – something dubbed the Rosenfeld effect. While per capita energy use nationwide has not experienced a similar leveling off, he said that to date, improved efficiency standards saves the nation nearly $1 trillion per year, equivalent to the national debt.
China, too, is beginning to focus on energy efficiency. In a country where per capita energy use is skyrocketing, appliance and air conditioning standards have already saved yearly about as much energy as is generated by the massive Three Gorges Dam on the Yangtze River.
Despite such gains in energy efficiency worldwide, much more needs to be done, said Rosenfeld, a professor emeritus of physics and founder of LBNL's building science group who served 10 years as a commissioner with the California Energy Commission before stepping down in January. His new passion: white roofs to reflect sunlight back into space and reduce cities' heat island effect.
"Cool roofs are the cheapest way to deal with global warming," he said. "Painting a thousand-square-foot flat roof white basically offsets the carbon emissions of the entire house for a year."
The Department of Energy and DOE Secretary Steven Chu, former LBNL director and UC Berkeley physics professor, have jumped on the "cool roof" bandwagon, with orders to whitewash the roofs all DOE buildings, including the flat roof of DOE's Washington headquarters. Philadelphia and other cities are starting white roof campaigns, and a 100 Cool Cities initiative has been launched to persuade the mayors of the world's 100 largest cities to institute regulations encouraging white roofs. The mayors of New York City, Taipei and Athens have already joined the effort, according to the White Roofs Alliance.
"If you paint all the eligible flat roofs in the world, you offset the emissions of 300 million cars," Rosenfeld said.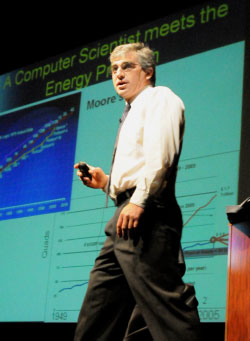 Rosenfeld mentioned another of his pet projects, demand response, before relinquishing that subject to the next speaker, David Culler, associate chair of UC Berkeley's Department of Electrical Engineering and Computer Science. As a member of the state's energy commission, Rosenfeld had pushed since 2008 for home installation of radio-controlled thermostats to allow the state to transmit price and reliability information into homes and allow customers to change their energy usage in response.
The idea is that, if consumers get charged more for energy used at peak hours, they will redistribute their usage to less congested and cheaper parts of the day, eliminating the need for expensive power plants that are used only during rare peak periods, such as summer heat waves. Buildings use 72 percent of the electricity in this country.
"We need the ability to operate in a world with volatility in the energy supply," Culler said. This is even more important now that homes with photovoltaic or other power generators are able to feed their power back into the electrical grid. "With renewables, the grid is a more dynamic place."
To deal with these issues, Culler is working on a LoCal Energy Network that would overlay the electrical grid and the internet to collect information everywhere energy is transferred – from machine rooms and entire buildings to neighborhoods, regional grids and power plants. This "intelligent energy network" would allow management of energy to even out the load throughout the day and cut costs overall.
Cory Hall, the home of the EECS department, provides a testbed and a prototype for a virtual private grid that could eventually encompass the entire UC Berkeley campus, Culler said. Instrumenting the building with energy sensors "down to every receptacle" has revealed a lot about the energy wasted every day, showing in particular that energy use is high even when nothing is going on in the building.
"If anything, we should do 'nothing' well," he argued. Already, analysis of energy use in Cory has "allowed us to completely change how we operated the building," dropping usage from 1 megawatt to three-quarters of a megawatt in 2009 alone.
"We can now think about an energy transparent building," he said.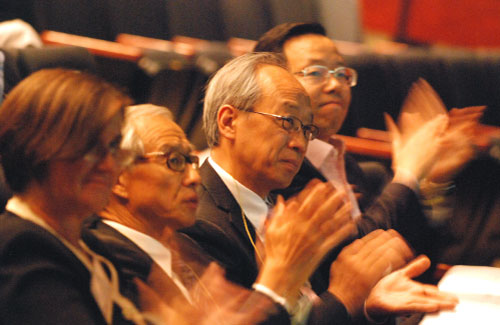 As Culler tries to create an energy efficient grid one building at a time, Harrison Fraker and his students in UC Berkeley's College of Environmental Design are focused on making large building complexes so efficient that they can move off the grid. In China, these complexes ‑ co-called superblocks ‑ have become a major environmental problem. Some 11 million of these square-kilometer superblocks are built each year in a way that encourages auto use and makes "CO2 emissions terrible," Fraker said.
As an alternative, Fraker and his students envision sustainable neighborhoods they have dubbed "eco-blocks," incorporating passive solar, photovoltaic and wind generation, waste and water recycling and numerous other green strategies, not to mention layouts that encourage walking and cycling. One surprise has been how much energy can be extracted from sewage and garbage by anaerobic digestion to produce biogas – methane and hydrogen.
"There is no silver bullet" to drive down energy use and reduce reliance on the electrical grid, he emphasized. "You have to do it all together." His energy efficient eco-blocks can reduce energy use by 40 percent, he said.
His main difficulty is convincing Chinese developers, who are now making wads of money on superblocks, to switch to sustainable eco-blocks. Fraker, who predicts that eco-blocks could save he Chinese government $35 billion yearly on future utility infrastructure costs, is hoping for some test projects in China and locally to prove his sustainable design concepts.
Other presenters included Jeff Bokor, professor of electrical engineering and computers science and deputy director for science at LBNL's Molecular Foundry who spoke on "Energy-efficient electronic systems" and Ramamoorthy Ramesh, UC Berkeley professor of materials science and engineering and of physics and an LBNL faculty scientist, who spoke on "New materials for the energy landscape."
Policy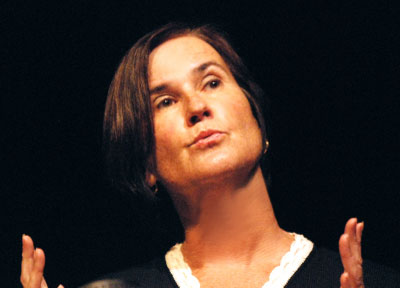 Translating innovative solutions into a coordinated California and U.S. energy policy was the subject of the last session, which was kicked off by the PUC's Dian M. Grueneich. She noted that, while California's landmark AB32 established the state as the leader in responding to climate change, Proposition 23 currently on the ballot would seriously damage that image and the state's future. The 2006 bill commits to reducing California's carbon dioxide emissions and other greenhouse gases to 1990 levels by 2020 and by 80 percent by 2050. Prop 23 would reverse that.
Noting that the PUC will come out against Prop 23, Grueneich said that "I am sworn to make sure California has a sustainable energy future" and addressing climate change in a systematic way is key to that mission.
She concurred on the need to push for greater energy efficiency, both as a way to cut greenhouse gases and a way to stimulate the economy with "green" jobs. She laid out five key factors needed to build a clean energy economy in the state, including clear laws and regulations, long-term state planning, major shifts in consumer behavior, more R&D with accelerated transition from lab to market, and workforce training and retraining.
"In 2008, California created the first long-term strategic plan on energy efficiency with great support from Cal and LBNL," she said. "We couldn't have done it without Berkeley."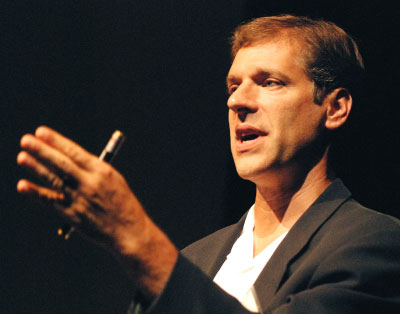 Daniel Kammen, UC Berkeley professor of energy and resources, public policy and nuclear engineering, endorsed Guerneich's message and discussed some of the strategies that can sell consumers on energy efficiency. Among these is the program he helped design for the city of Berkeley, called PACE (Property-Assessed Clean Energy) financing, which involves city loans to homeowners to pay for efficiency upgrades and paid off over 20 years through property taxes. The program expanded throughout the state and the nation after its introduction in 2007.
PACE provides a cautionary tale about government policy, however. While DOE and the Environmental Protection Agency are gung-ho about the program, the Treasury Department and the Federal Housing Finance Agency are concerned that it conflicts with mortgage contracts, and have joined Fannie Mae and Freddie Mac in halting the program. The state of California and numerous cities have sued to reverse this stand, while Congress is considering bills to restore PACE.
As of Oct. 1, Kammen will take a job with the World Bank as their first renewable energy "czar," where he will shape policies and guide lending worldwide to spread renewable energy policies on a global scale.
Subsequent speakers brought more sobering tales. Catherine Wolfram, professor in the Haas School of Business and co-director of the Energy Institute at Haas, talked about her studies to understand why homeowners don't take advantage of energy efficiency incentives or subsidies that would seem to save them money. Drawing from methods used in medical trials, she is using a "randomized encouragement design" to determine which strategies increase consumer participation.
Robert Collier, a former reporter with the San Francisco Chronicle and a visiting scholar at the Center for Environmental Public Policy in the Goldman School of Public Policy, argued that strategies now used to communicate the urgency of climate change are not working. "This is the 800-pound gorilla in the room," he said, noting that more people dismiss global warming today than in 2008. Whether this is due to "Al Gore fatigue," Climate-Gate, right-wing media critiques, or a lousy economy and high unemployment, it is urgent that we get this right, he said.
"Climate communications will do us a lot of damage if we don't pay attention," he said. "If Prop 23 wins, for example, this will be a national message the even California doesn't believe in this bunk."
Finally, Severin Borenstein, director of he UC Energy Institute and a professor in the Haas School of Business, took the stage to reprise his role as "the skunk at the picnic." He argued that any strategy to decrease fossil fuel use and greenhouse gas emissions has to work within the market, and current strategies could well produce the opposite effect.
His main points involved cap and trade, the plan to auction or give away carbon credits that will be traded on the open market. The idea is that as carbon prices rise, power producers will switch from polluting coal and oil to low-carbon renewables. But will they?
"Cap and trade will lower the price of fossil fuels a lot and will change the economics in ways that many political leaders and their economists don't understand," he said.
Specifically, he noted that some oil is very cheap to extract. As a result, while oil prices today are high enough to make renewable fuels such as biofuels look attractive, competition could push the price of oil much lower, making biofuels much less attractive. In addition, as carbon credits are made more expensive, or carbon is taxed at ever higher rates to account for dropping oil prices, there comes a point where the main cost of fuel is the price of greenhouse gases. That's a politically sticky situation, he said.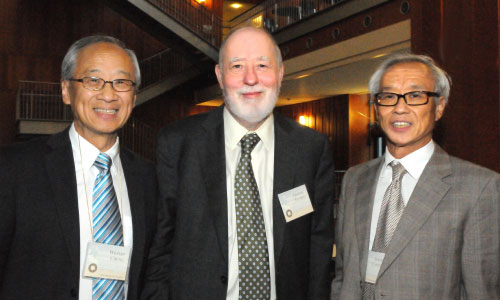 Despite the sobering tone of some of the presentations, Fleming was upbeat when recapping the symposium, telling the crowd that Berkeley's impact on the nation and the world's sustainable energy future rests on more effective collaboration among researchers and greater education of students to "give them experience locally, nationally and globally." He said that he hopes to institute an "Energy Corps" next summer that would support students engaged in energy projects around the world.
"Don't go away and carry on as if nothing happened over the past two days," he admonished the crowd.
The two-day symposium was made possible with generous support from the Philomathia Foundation.
A full webcast of all the presentations will soon be available at http://energy.berkeley.edu