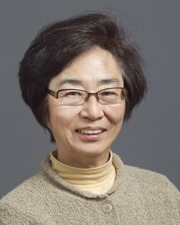 Z. Renee Sung
Department
Dept of Plant and Microbial Biology
Research Expertise and Interest
plant biology
,
plant and microbial biology
Research Description
Research in the Sung laboratory is focused on the regulation of gene function at the chromatin level in plants. Polycomb group (PcG) and trithorax group (trxG) proteins play evolutionarily conserved roles in the epigenetic regulation of gene expression. The mutually antagonistic activities of PcG and trxG proteins promote the stable and maintenance of repressed and active transcriptional states, respectively, via histone modification on the target gene sequences. Despite the general view and advances in studies of the PcG and trxG proteins, we still know little about how PcG function relates to that of the trxG. We are studying a plant-specific gene, EMBRYONIC FLOWER 1(EMF1), encoding an transcriptional regulator involved in plant PcG-mediated gene repression mechanism. Genome-wide investigation of EMF1 targets showed that EMF1 regulates the expression of a large number of transcription factor genes, including flower and seed genes, via diverse mechanisms. Tissue-specific removal of EMF1 activity from leaf primordia leads to early flowering plants with curly leaves that can be counteracted by mutations in ULTRAPETALA1 (ULT1). Thus ULT1 functions as a trxG factor antagonizing PcG action on flowering. ult1 mutation  counteracting early flowering is accompanied by restoration of the reduced trimethylation of Histone3 lysine 27 on flower MADS box genes in the emf mutants. We are studying PcG and trxG functions and molecular mechanism of their activities. Recent studies revealed unexpected observation that contrary to PcG and trxG antagonistic action on flower genes, trxG can compensate the loss of EMF1 function in maintaining seed gene repression during germination. A current goal is to characterize this novel compensatory mechanism by the trxG factors and how they play opposite role in regulating seed development and flowering, two  important traits in agriculture.