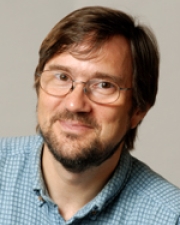 Vern Paxson
Department
Division of Computer Science/EECS
Research Expertise and Interest
network security
,
internet measurement
Research Description
Large-scale compromise of Internet hosts: botnets & worms; criminalization of Internet attacks; "underground economy". Network intrusion detection/prevention: application analysis, high performance, hardware & multicore support, evasion, resource management, operational deployment, forensics, inter-site coordination. Censorship and illicit surveillance. Network troubleshooting. Characterization of enterprise traffic. Network trace anonymization and mediated analysis.
In the News
March 7, 2017
Signatures Innovation Fellow Vern Paxson and his team build on 20 years of experience to effectively understand and combat today's cyber security threats.
March 18, 2016
Three faculty members have been selected as 2016-17 Signatures Innovation Fellows, receiving as much as $100,000 per year each for up to two years to pursue commercially promising data science and software projects.