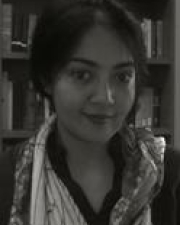 Vasudha Paramasivan
Title
Assistant Professor
Department
Dept of South and Southeast Asian Studies
Research Expertise and Interest
Hindi Literature
,
Hinduism
,
South Asian Literature and Culture
Research Description
Vasudha Paramasivan's research focuses on early modern and modern literary cultures of North India. Her current research is centered on the Ramcaritmanas of Tulsidas. Her book project brings together exegetical literature, hagiographies, and narrative poetry in order to explore the complex sets of interactions among the various 19th-century literary cultures—sectarian, courtly, and colonial—that contributed to the emergence of the Ramcaritmanas as the principal text of Ram devotion. She is also interested in the enormous impact that the Ramcaritmanas exerted on the modern Hindi poetical imagination.
Her publications include: Yah Ayodhyā Vah Ayodhyā: Earthly and Cosmic Journeys in the Ānand Lahari, Captivity and Curiosity, The Question of Economic Independence for Women" and The Condition of Hindu Wives.