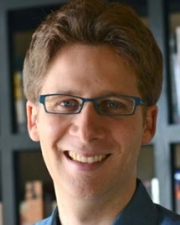 Tom Griffiths
Title
Associate Professor
Research Expertise and Interest
machine learning
,
computational models of human cognition
,
Bayesian statistics
,
cultural evolution
In the News
March 6, 2014
Preschoolers can be smarter than college students at figuring out how unusual toys and gadgets work because they're more flexible and less biased than adults in their ideas about cause and effect, according to new research from UC Berkeley and the University of Edinburgh.
February 11, 2013
Ancient languages hold a treasure trove of information about the culture, politics and commerce of millennia past. Yet, reconstructing them to reveal clues into human history can require decades of painstaking work. Now, scientists at the University of California, Berkeley, have created an automated "time machine," of sorts, that will greatly accelerate and improve the process of reconstructing hundreds of ancestral languages.
March 12, 2012
UC Berkeley scientists are tapping the cognitive smarts of babies, toddlers and preschoolers to program computers to think more like humans.