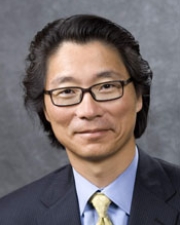 Taeku Lee
Title
Professor and Chair of Political Science, Professor of Law
Department
Berkeley Law
Dept of Political Science
Research Expertise and Interest
political science
,
discrimination
,
language
,
social movements
,
political behavior
,
identity
,
racial and ethnic politics
,
public opinion
,
survey research methods
,
social welfare policies
,
partisanship
,
stereotypes
Research Description
Taeku Lee is Professor of Political Science and Law and Chair of the Travers Department of Political Science at the University of California, Berkeley. His first book, Mobilizing Public Opinion (Chicago 2002), received the J. David Greenstone and the V.O. Key book awards. He also co-authored Why Americans Don't Join the Party (Princeton 2011), co-authored Asian American Political Participation (Russell Sage 2011), co-edited Transforming Politics, Transforming America (Virginia 2006), co-edited Accountability through Public Opinion (World Bank, 2011), and is completing the Oxford Handbook of Racial and Ethnic Politics in the United States. Lee has served in administrative and leadership positions at UC-Berkeley and in advisory and consultative capacities for academic presses and journals, non-governmental organizations, research projects, think tanks, and multinational corporations. Prior to coming to Berkeley, he was Assistant Professor of Public Policy at Harvard's Kennedy School and Robert Wood Johnson Scholar at Yale. Lee was born in South Korea, grew up in rural Malaysia, Manhattan, and suburban Detroit, and is a proud graduate of K-12 public schools, the University of Michigan (A.B.), Harvard University (M.P.P.), and the University of Chicago (Ph.D.).
In the News
May 31, 2016
Political scientist Taeku Lee is part of a team leading a newly announced, expanded study of the experiences and attitudes of Asian Americans in the most extensive look to date at the nation's fastest-growing racial group.
October 2, 2012
Asian Americans, who account for 10 percent of registered voters in California, support a tax measure proposed by Governor Jerry Brown, are closely divided on the death penalty ballot measure, overwhelmingly support affirmative action, and support tax increases, according to two new reports from the National Asian American Survey.