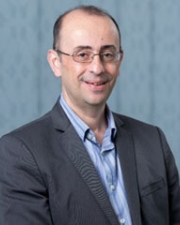 Samer Madanat
Department
Dept of Civil and Environmental Engineering
Research Expertise and Interest
transportation systems analysis
,
transportation infrastructure management
,
transportation sustainability
Research Description
My primary research area is in the field of infrastructure systems management, with an emphasis on facility performance modeling and maintenance and replacement decision-making. More recently, I have worked in the area of transportation sustainability, with an emphasis on the analysis and development of policies that may lead to reducing the environmental externalities of the transportation sector.
In the News
July 1, 2010
The California High-Speed Rail Authority's forecasts of demand and ridership for a new San Francisco-to-Los Angeles high-speed train are not reliable because they are based on an inconsistent model, according to a new study by researchers at UC Berkeley's Institute of Transportation Studies. The study is the first academic review of the rail authority's ridership forecasts, which was included in California's successful application for federal stimulus dollars.